Sharon Osbourne had more than a big round of applause to give Lady Gaga during The X Factor's live results show.
The two stars embraced on stage after announcing they had ended their on-going public row, following a Twitter feud between Gaga fans and Kelly Osbourne.
After performing "Venus" and "Do What U Want", the singer told host Dermot O'Leary that the two were on speaking terms.
"We got to hang out at G-A-Y last night," the singer revealed, before going to hug Osbourne.
The two fell out earlier this year when Kelly said Gaga had been disrespectful to her fans for skipping the red carpet at the Grammy Awards, which prompted a backlash from Gaga's "Little Monsters" on social media.
Kelly continued the feud later in the year by suggesting the singer looked pregnant in an outfit she wore, which sparked another series of insulting messages from Gaga's Little Monsters.
Gaga hit back by saying the 28-year-old star should "defend others who are bullied for their image".
Sharon Osbourne then waded in on the singer, calling her a "hypocrite" for not standing up to the bullying comments Gaga fans aimed at Kelly.
In her autobiography, Osbourne wrote: "By not repudiating her fans' bullying, she was condoning it. That's why I called her a hypocrite.
"I was so disappointed because I had always been a huge fan. I have been to three of her shows and she's undeniably a very talented woman."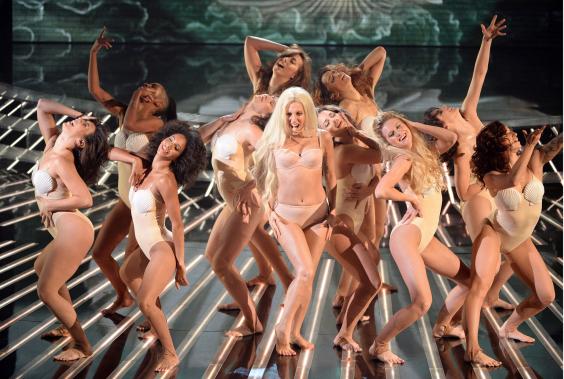 Last night Osbourne and Gaga posed for a photograph backstage at The X Factor, as the singer presented a birthday cake peace offering she bought for Kelly.
Kelly, however, seemed unimpressed with Gaga's gesture.
In a series of tweets, she said: "Not to be ungrateful but why would you send me a birthday cake via my MOTHER in a country half the world away? #JustSendItToME #LoveNotWar."
"#StefaniStopIt. You are so far behind you think you are first! I live for a #Cause not for the #Applause!!!!!!"
Sharon Osbourne only tweeted: "Blown away by Lady Gaga's performance and graciousness".
Reuse content