The one great disadvantage of the full-on Netflix binge is that everything can start to meld together somewhat, and it's easy to start to lose your eye for detail.
So it's a wonder many Luke Cage binge-watchers missed out on one pretty exciting treat hidden within its frames, thankfully spotted by one eagle-eyed Reddit user. Keep a lookout in episode 10, during the scene in which Detective Misty Knight (Simone Missick) is looking through microfilm newspaper archives for any clues about Luke Cage (Mike Colter)'s mysterious past, back when he still went by the name of Carl Lucas. 
While the focus of the shot might be on a piece detailing Carl's arrest for grand theft auto, and his connection as the son of a prominent local preacher and civil rights leader, the article on the right mentions something of an entirely different flavour.
Entitled "Martin Brown commended", the piece details a gala held for a celebrated local scientist and his invention, the so-called "thrust capacitator"; though in the Marvel universe, its name change also brings with it the rather less exciting purpose of desalinizing ocean water, though the device is said to potentially enable time travel in the future. 
A speculation Brown believes will only become a reality, "when plutonium is available at every corner drugstore", which directly references a line in which 1950s Doc imagines what the 1980s is like. The piece also mentions Brown's "impulsive and sometimes bombastic behaviour", and gives mention of a controversy surrounding his inclusion of a teenage boy in his experiments in 1963; a teenage boy by the name of Mac Fly.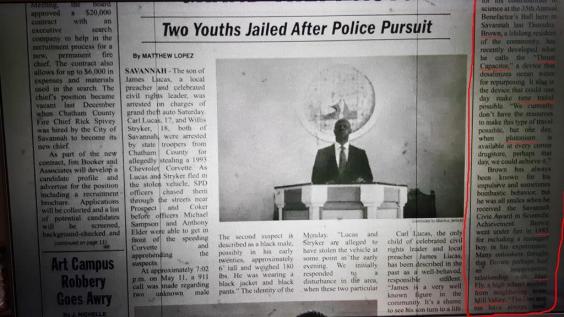 Marvel's Luke Cage is currently available to watch on Netflix. 
Reuse content