From Game of Thrones and Breaking Bad to Marvel movies and Harry Potter, more and more parents are giving their babies cultural references for names.
The UK's most popular baby names list for 2013 came out today, revealing the influence of our favourite TV shows, films and books.
Walter and Skyler White from Netflix original Breaking Bad have had a rising effect on names since the TV series aired in 2008. Last year, 72 baby girls were called Skyler, while 58 boys were named Walter, in a nod to the overwhelming popular show, about a chemistry teacher turned meth dealer.
Hit fantasy drama Game of Thrones has also made an impact on new mums and dads since 2011, with 11 Theons and six Tyrions appearing on the list of baby names given to 3 or more boys in 2013. Tywin, Joffrey, Petyr and Varys are yet to crack said list.
Most unusual famous baby names
Most unusual famous baby names
1/15 No.15: Ignatius Martin Upton - Cate Blanchett and Martin Upton chose a very serious name for their son. Who now joins Dashiell and Roman, his two siblings.

Getty Images

Getty Images

2/15 No.14: Bingham 'Bing' Hawn Bellamy - Is what Kate Hudson called her little boy with Muse frontman Matt Bellamy. Yep.

Getty Images

Getty Images

3/15 No.13: Harper Seven Beckham - The baby daughter of DB and VB, named after To Kill A Mockingbird author, Harper Lee and the number of dad David Beckham's Man U football shirt. Sure.

Reuters

Reuters

4/15 No.12: Sparrow James Midnight Madden - Nicole Richie and Good Charlotte rocker Joel Madden called their son Sparrow. Middle name? Midnight. Obviously.

Getty Images

GETTY IMAGES

5/15 No.11: Keen Ruffalo - Dear Mark Ruffalo, is it really OK to call your son Keen? Is he?

Getty Images

GETTY IMAGES

6/15 No.10: Destry Allyn Spielberg - What happens when your mum and dad name you after a Western.

Mark Von Holden/Getty Images

Mark Von Holden/Getty Images

7/15 No.9: Reiley Dilys Stella Willis - Ah. The rhyming baby name. Of which Stella McCartney and Alasdhair Willis' daughter is the proud owner of.

Getty Images

Getty Images

8/15 No.8: Apple Blythe Alison Martin - Naming children after fruit. And/or religious figures (son's called Moses). Gwyneth Paltrow and Chris Martin love it.

PA

@PA

9/15 No.7: Astala Dylan Willow Cohen-Geldof - Look, it just wouldn't be a Geldof if he didn't have an outlandishly irregular name, would he? Peaches Geldof and Thomas Cohen made sure they stuck with family tradition.

Getty Images

Getty Images

10/15 No.6: Moroccan Scott Cannon and Monroe Cannon - Mariah Carey and Nick Cannon decided to name their two twins after the name of a person that comes from the north African country. Oh, and a golden age Hollywood screen star's surname. Of course.

Getty Images

Getty Images

11/15 No.5: Denim and Diezel Braxton-Lewis - Naming your kids after jean fabric and car engines? Toni Braxton is well into it.

Getty Images

Getty Images

12/15 No.4: North West - We all laughed long and hard and loud as the rumoured monikers for Kim Kardashian and Kanye West's bundle of joy did the rounds. And then they called her North West. And it wasn't a joke any more.

Getty Images

Getty Images

13/15 No.3: Jermajesty Jackson - Is the actual name of one of Jermaine Jackson's sons. No, we're not joking. It really is.

Getty Images

Getty

14/15 No.2: Happy Hinds - Seriously. This is definitely what Macy Gray named her daughter. Sounds like enthusiastic back legs to us.

Getty Images

Getty

15/15 No.1: Bear Rocknroll - The surname is enough to induce a few cackles of amusement. Then add the chosen fore-title of Kate Winslet's baby boy, born December 2013, and it's just... Well... Weird.

Reuters

Reuters
Thanks to Marvel's relentless churning out of superhero movies, 13 baby Thors entered the world in 2013 while there were 37 Lokis, named after the former's adoptive brother and archenemy.
JK Rowling's Harry Potter books have also had a strong influence, with Ronnie rising 15 places to number 90 and even three Bellatrixes making appearances. In previous years, there have been babies named Draco and Sirius.
The trend for cultural baby names has been long established, with Britney shooting up the rankings in 1999 after the release of Britney Spears' "Baby One More Time".
Then there was the 2002 rise in popularity of Shakira following "Whenever, Wherever", and Rihanna in the wake of 2007 chart-topper "Umbrella".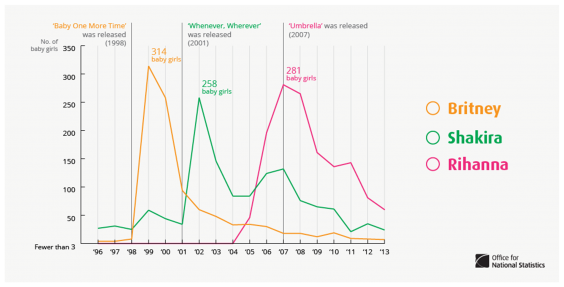 Since award-winning French film Amelie was released in 2001, the name has seen a hike in popularity, rising from fewer than 3 babies in 1996 to 10,095 in 2013.
For the second year running, Elsie has seen the largest rise, gaining 23 places to number 47 in 2013. This may in part be down to Idina Menzel's character Elsa in Disney's massive hit Frozen, although the movie was released in November last year.
Reuse content