It won the hotly-contested Christmas Day TV ratings battle for BBC One, but family sitcom Mrs Brown's Boys will not be returning until 2015.
Actor Gary Hollywood told the Daily Record that his co-star Brendan O'Carroll, the creator of the award-winning show, is too busy to make another series before then.
"Brendan's writing as quick as he can but I'm afraid viewers will have to wait another year before they see any new TV episodes," Hollywood, who plays hairdresser Dino Doyle, said.
"We've been touring the UK non-stop and Brendan wrote a book, a movie and two Christmas specials last year. We're also about to tour Australia, with almost half a million tickets already sold for our 42 shows."
There is no rest for O'Carroll's entertaining matriarch Agnes Brown and the cast. "Once that is over, we will rush back to the UK for the premiere of Mrs Brown's Boys D'Movie in June," Hollywood added. "Then we've two more Christmas specials to do."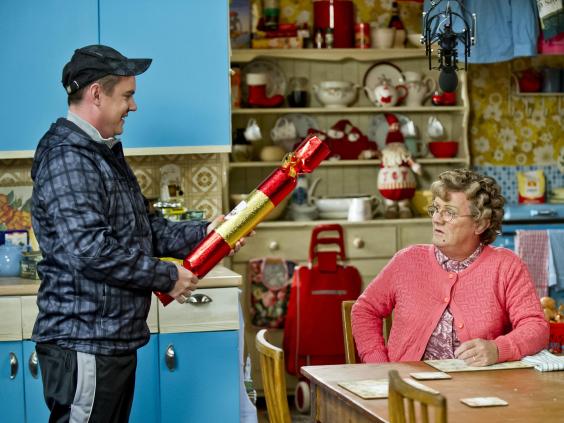 The Mrs Brown's Boys Christmas special, "Buckin' Mammy", attracted its record audience of 9.4 million when it aired on 25 December, beating competition from Downton Abbey, Strictly Come Dancing, EastEnders and the 'regeneration' episode of Doctor Who.
The second special, "Who's A Pretty Mammy", was watched by 8.71 viewers on 30 December.
It remains to be seen whether O'Carroll will be taking the show to the US.
"The problem with us in the US is because there is swearing in it – there cannot be swearing in any TV shows on any network channel," actor Rory Cowan told the Irish Mirror.
"By law if there is any swearing it has got to be beeped – and not just change the words. Brendan won't agree to that at all. Brendan would stick to his funs. He would rather not change anything."
Cowan confirmed US networks were keen to take on Mrs Brown's Boys, with streaming service Netflix also expressing an interest.
"Brendan is talking to [cable channels] HBO and PBS about doing it in America and they do want it as it is – swearing and all," he added. "Brendan is also talking to Netflix and that's how they will get around that."
O'Carroll was forced to defend his sitcom earlier this year when Russian TV channels wanted to edit out gay characters Rory and Dino for violating the country's strict gay propaganda laws.
To date there have been three series of Mrs Brown's Boys after the first run aired in the UK and Ireland in early 2011.
Reuse content