Good news Marvel fans, the Netflix TV series of Daredevil is set to premiere sooner than you might have expected – this spring in fact.
The 13-episode run will air in full worldwide on 10 April, starring British Boardwalk Empire actor Charlie Cox in the lead as a lawyer who moonlights as a superhero.
Marvel's best superheroes
Marvel's best superheroes
1/19 Black Widow

The Black Widow (Natasha Romanoff) played by Scarlett Johansson

AP

2/19 Spider Man

British actor Andrew Garfield as Spider-Man

PA

3/19 Captain America

Chris Evans in 'Captain America: The First Avenger'

Rex

4/19 Iron Man

Robert Downey Jr in Iron Man 3, who won favourite action movie star at the People's Choice Awards 2014

Iron Man 3

5/19 Wolverine

Hugh Jackman bears his claws and loses the plot in X-Men movie 'The Wolverine'

Twentieth Century Fox Film

6/19 Hulk

Edward Norton as Hulk in The Incredible Hulk

YouTube

7/19 Thor

Chris Hemsworth as Thor. Recently Marvel revealed its plans to make the hammer-wielding Norse superhero Thor a woman

Rex Features

8/19 Hank

Nicholas Hoult as Kan in 'X-Men: Days of Future Past'

AP

9/19 Raven Darkhölme

Jennifer Lawrence as Raven Darkhölme in X-Men: Days of Future Past

10/19 Hawkeye

Jeremy Renner as Hawkeye in 'Avengers Assemble'

Marvel

11/19 Winter Soldier

Sebastian Stan as the villainous Winter Soldier in the 'Captain America sequel

Marvel

12/19 The Avengers

The Avenger's superheroes

Marvel

13/19 Cyclops

The optic blast hero has long been played by James Marsden

YouTube

14/19 Professor X

Patrick Stewart landed the role as Professor Charles Xavier in Bryan Singer's comic-book blockbuster X-Men

Rex Features

15/19 Rocket Raccoon

Bradley Cooper voices Rocket Raccoon in Guardians of the Galaxy

Marvel

16/19 Groot

Also known as the Monarch of Planet X, Groot is played by Fast and Furious star Vin Diesel in Guardians of the Galaxy

Marvel

17/19 Drax

Known as 'the destroyer', Drax is played by actor Dave Batista in Guardians of the Galaxy

YouTube

18/19 Gamora

A soldier and assassin played by Zoe Saldana in Guardians of the Galaxy

YouTube

19/19 Guardians of the Galaxy

Bill Mantlo's comic creation on screen in Guardians of the Galaxy

Marvel
Cox is replacing Ben Affleck as Matt Murdock, after the movie hit cinemas in 2003 to largely negative reviews. Rosario Dawson, Elden Henson, Vincent D'Onofrio and True Blood's Deborah Ann Woll also feature in the cast. 
Marvel and Netflix have released a dramatic new poster along with the scheduling news, showing two D's illuminated in red over the New York City skyline.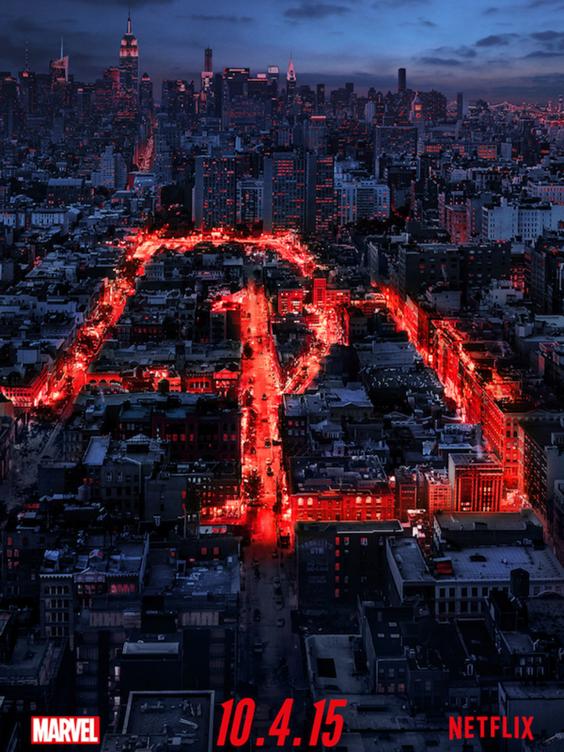 The official synopsis reveals that the storyline will follow Murdock, who was blinded as a young boy but imbued with extraordinary sense, as he battles injustice by night in "modern day Hell's Kitchen, New York City".
Daredevil is intended as the first in five upcoming Marvel series, with others due to focus on Jessica Jones (Krysten Ritter), Luke Cage (Mike Colter) and Iron Fist before the four team up for another show, The Defenders.
Popular Netflix period drama Marco Polo has also recently been recommissioned for a second series.
Reuse content