It's hardly the bucolic countryside of The Archers. A new Channel 4 drama portrays a rural England which is "rotting through disrepair", disguising a seething hotbed of murder and teenage drug abuse.
Glue, an eight-part series, which opens with the body of a teenage traveller, found dead underneath the wheels of a tractor, promises to reveal the dirty secrets hidden behind Berkshire's horse stables and leafy lanes.
Launching on the E4 youth channel on Monday night, the "twisted" drama, described as "Broadchurch meets Skins", is written by Jack Thorne, who penned episodes of Channel 4's This Is England, and is based on his own experiences growing up in Berkshire.
In Glue, Class A drugs are freely snorted and twocking (stealing) a car "is just something that's done on a night out."
The story is set in a world "where wild kids play chicken on top of silo machines which have blades that can cut your hand into slices no thicker than the ham in your sandwich. The same kids play grain barn-jumping – deadly, if your lungs fill up with the tiny bullets of wheat."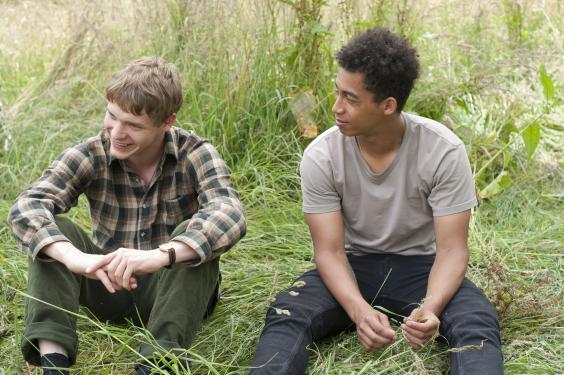 Thorne, previously responsible for This Is England and Skins said: "I grew up in Newbury and was constantly fascinated by life around the stables.
"In an age where the British countryside feels like its rotting through disrepair and no-one cares, we want to tell a story about ambition, hope, darkness and anarchy."
Set in the fictional village of Overton, Glue was shot around Berkshire's barley fields, grain silos and paddocks, adding a sinister aspect to those signifiers of England's green and pleasant land.
It may not delight the local tourist board but series producer Jamie Campbell, at Eleven Film said: "Glue should scare the shit out of anyone who thinks they might move there for a quiet life."
However Campbell said rural inhabitants should welcome the series. "British drama often focuses on urban environments and the countryside tends to get neglected. The modern countryside is complex, exciting and rarely portrayed the way we're going to show it."
Glue features an ensemble cast of bright young talents including Yasmin Paige, star of the acclaimed film Submarine, Jordan Stephens, one half of platinum-selling hip-hop duo Rizzle Kicks and Callum Turner, recently named as a Screen International Star of Tomorrow.
Thorne believes Glue is the first British drama to place an accurate representation of Britain's Romany community on screen.
Paige plays Ruth, a young policewoman who is half Romany, brought in to investigate the killing of the Romany boy. Candis Nergaard, a Romany actress who advised the actors on set, said: "This is the first time I've ever heard the Romany language on screen with an English dialect rather than East European. That's important for us."
Glue is a corrective to a previous Channel 4 portrayal of traveller life. "A lot of the time My Big Fat Gypsy Wedding was like Jeremy Kyle for gypsys. This is a more realistic perspective," Nergaard said.
Paige said: "It's a huge characteristic of the show, that whole community is important. We learnt the Romany culture, and how in this situation our characters would react. It makes it unique."
Glue begins on Monday 15 September on E4 at 10pm.
Reuse content