Those of you still mourning the gap left in the Saturday night TV schedule by Nineties ITV show Gladiator, your luck has just come in.
Ninja Warrior UK, based on an extreme assault course game show from Japan called Sasuke, is being brought in by ITV and will be hosted by Ben Shephard, the Saturdays' Rochelle Humes and ex-footballer Chris Kamara.
It will feature 250 contestants running, jumping and climbing their way through the challenging course which looks remarkably similar to the one used on Gladiators.
It has been described as "the toughest obstacle course ever seen on British television" and ITV's commissioning editor for entertainment, Asif Zubairy, promises "some inspirational achievements as well as hilarious mishaps".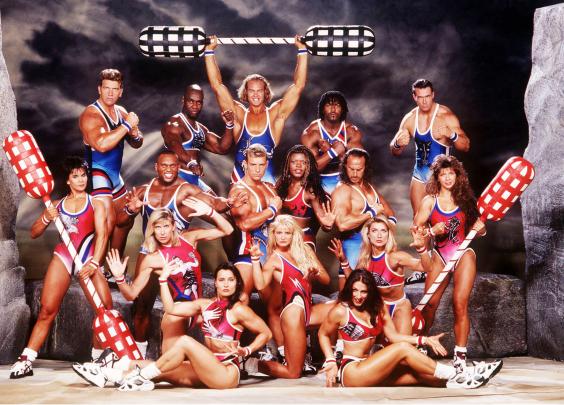 The BBC's Total Wipeout, which relied on a similar blend of athletic ability and athletic failure, was dropped in 2012 after six series.
ITV Saturday night game show Gladiator was originally presented by John Fashanu and Ulrika Jonsson and ran for eight series before being briefly revived by Sky 1 in 2008 and cancelled a year later.
Like Gladiator, Ninja Warrior was a huge hit with American audiences before being remade for UK television. It also has hit series in Sweden and Malaysia.
But unlike the Nineties show, which featured professional body builders with wonderful names including Hunter and Panther, Ninja Warriors UK 'scompetitors will range from "'Have a Go Heroes" to "superhuman athletes", according to ITV.
The show is designed so that viewers will be entertained by "those who can superbly execute the course to those who spectacularly fail, crashing out of the course into the water below."
The concourse is described by ITV's press office as "jaw-dropping", "punishing" and "potentially hilarious."
Let's hope ITV hires Gladiator referee John Anderson to shout into a microphone: "Ninjas, you will go on my first whistle!"
Reuse content