Season 2 of Orange Is The New Black may still be months away, but Netflix has begun drip-feeding a few photos from filming, this latest batch teasing the reunion of Larry and Piper after her end of series mania.
Larry (Jason Biggs) appears to stand up from the visitors' table in horror in one image, Piper (Taylor Schilling) perhaps having told him about her fight with Pennsatucky or rekindling of romance with Alex.
Another sees Crazy Eyes dancing wildly during (presumably) a Valentine's Day event at Litchfield, while the third shows a miffed Nicky and Red.
The series looks to be picking up right where the first left off, while previous snaps released gave a glimpse of newcomer Lorraine Toussaint as Yvonne "Vee" Parker.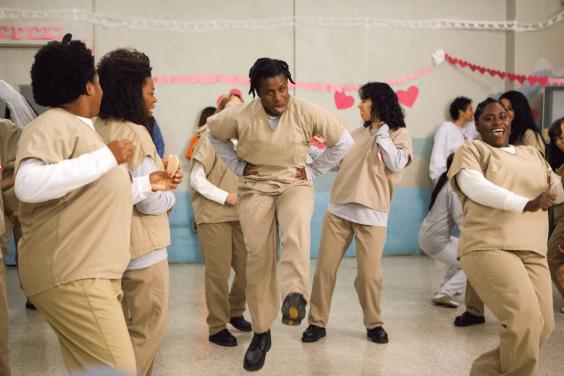 Netflix released a teaser last month, but it was a mere 17 seconds long and didn't show any new footage – a more revealing trailer can be expected soon though.
OITNB will Emmy eligible this year, competing in comedy categories following fellow Netflix original House of Cards' triumph at last year's awards.