Orange Is The New Black actor Jason Biggs has joked that the show could continue beyond season 3 with him as a protagonist, transforming into a Larry Bloom spin-off (it's funny coz 99% of fans seem to despise Larry!)
Biggs sat down with 'real life Larry' Larry Smith for an interview in Medium this week, trading notes on what it's like to be Piper's husband/fiancé on screen and off screen.
It was an interesting lunch with the pair discussing everything from how Smith felt about being portrayed by the American Pie actor to season 1's fart sex scene.
Of most interest to fans however will be the possibility of a spin-off centring around Larry that was put forward:
'Larry: How long do you think Orange Is the New Black will go on?
Jason: Let's think about it realistically. In terms of the way they have spaced it out so far, the first season took place over a few months. And I think the same for this season; maybe less time, actually, in Season 2. So maybe this is like a month or two. The truth is, they could stretch this thing for a long time. And they could even switch the protagonist. Jenji's not afraid to do it. And the diversity of the cast is part of the reason the show is such a big hit.
Larry: The Larry spin-off is going to be awesome.
Jason: It's going to be amazing.'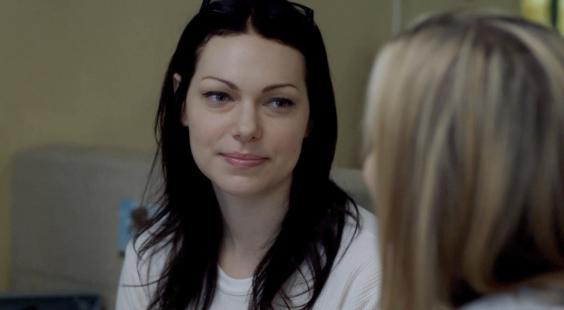 The pair are of course kidding around, with Larry even being the subject of angry fan fiction in which he is unceremoniously dumped by Piper such is the hatred for the character on the internet (though I for one think the show needs Larry as its counterweight).
When asked by Smith whether he "wished the character wasn't such a pushover?", Biggs defended the on-screen Larry, saying:
"I think that characterization is making it too black and white. Larry has these incredible moments of strength, and he makes these tough decisions. He does say "fuck you" to Piper. He does stand up to her. He's strong when he's on his own. In terms of being a pushover, I really feel like Larry has a big transition [over the course of Season 1]. And if he's not as willing or supportive initially, then the payoff isn't as great, the stakes aren't as high for when he finally does say "This is it" at the end of Season 1."
Biggs is expected to return for OITNB season 3, which is currently filming, expected to arrive in 2015 and will see more Alex Vause.
Reuse content