Uzo Aduba has been honoured at the Creative Arts Emmys 2014 for her role of Suzanne "Crazy Eyes" Warren in Orange Is The New Black with a best guest actress award.
Crazy, sweet, smart and sensitive by turn, Suzanne has been a relatively small but important character in the Netflix show, with Aduba's committed performance being recognised at a ceremony that honours technical achievements in the arts.
Aduba thanked her mother in an emotional acceptance speech, who she said came from Nigeria "to make a better life for her family".
OITNB won two other prizes on the night, one for casting and one for picture editing.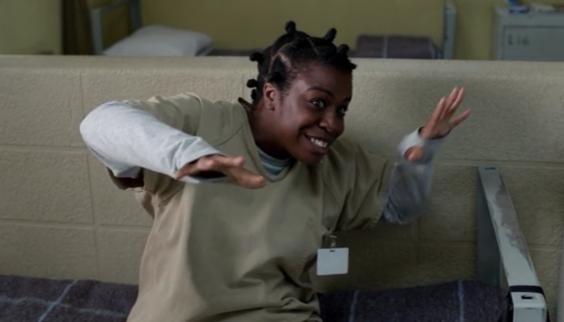 Other guest acting honours went to Joe Morton for ABC's Scandal and Allison Janney for Showtime's Masters of Sex.
OITNB is currently filming its third season, with Natasha Lyonne being spotted filming scenes believed to be of Nicky Nicholls' back story in New York last month.
The show launched a cookbook this week, which will offer recipes like Red's chicken kiev and promises to dish up behind-the-scenes stories and secrets.
Reuse content