Bonk and Nuts are among the robots set to do battle when the Robot Wars reboot finally hits our living rooms.
Hosted by Dara O Briain and Angela Scanlon, the new six-part series will see forty teams of ameatur robot fighters ignite the Glasgow arena (quite possibly literally) in a bid to be crowned Robot Wars Champion. Original commentator Jonathan Pearce is returning, much to the delight of fans. 
Eight robots will compete per episode, starting with two group battles with four robots in each. The top two robots from each group battle will then the tackle head to head battles with all four fighting each other once. The best two robots will compete in the episode final with the winner making it through to the Grand Final. It's nail-biting stuff, with a judging panel on hand to decide the winners in the case of no knock-out.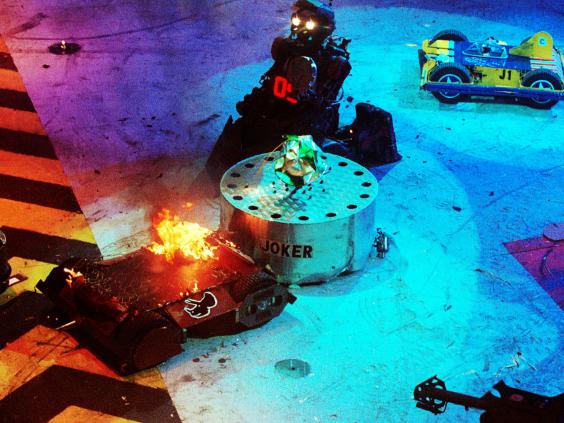 Dr Lucy Rogers, Professor Noel Sharkey and Professor Sethu Vijayakumar will be looking for aggression, damage and control, so this really is all-out war, not least because the purpose-built arena contains dangerous hazards of fire, spikes, the flipper and the pit. Then, of course, there are the House Robots, updated with the best of 2016 technology and ready to destroy any robot pretenders who stray into their Corner Patrol Zone. Sir Killalot, Matilda, Shunt and Dead Metal will be showing no mercy. 
Check out the full list of amazing robot competitors below, including some you might just recognise from your childhood:
Behemoth
Bonk
Carbide
Kill-E-Crank-E
Nuts
Razer
Terrorhurtz
The General
Chimera
Disconstructor
Draven
Foxic
M.R Speed Squared
Shockwave
Thor
Tough as Nails
Big Nipper
Dantomkia
Glitterbomb
King B Remix
Orte
Overdozer
Supernova
TR2
Apollo
Eruption
Kan-Opener
PP3D
Sabretooth
Storm 2
Sweeney Todd
Terror Turtle
Beast
Chompalot
Crazy Coupe 88
Gabriel
Infernal Contraption
Ironside 3
Pulsar
Thermidor 2
Robot Wars returns to BBC2 later this month after first launching in 1998 and running until 2004. Let the wars begin!
Reuse content