Rowan Atkinson's portrayal of a fictional Archbishop of Canterbury on Comic Relief was the most complained about TV moment of 2013, Ofcom has revealed.
Scroll down to view the gallery
The government-approved regulator received 487 complaints from offended viewers after Atkinson claimed in his monologue that prayer "doesn't work" and compared pop group One Direction to Jesus' disciples.
Despite the outrage, the sketch was found to be justified by its context and not in breach of Ofcom rules.
In total, the TV watchdog received 13,780 complaints about inappropriate programming this year.
For the second year running, Channel 5 reality show Big Brother topped the most complained-about TV show list, with 965 complaints for issues including racism, bullying and fighting.
A remark by housemate Jemima Slade attracted 305 complaints after she revealed a preference for "dark-skinned Mediterranean" men but "not black men".
The X Factor results show generated 734 complaints to come second. US pop star Lady Gaga's "inappropriate" outfit  and Robin Thicke's performance of "Blurred Lines" generated 439 complaints, but Ofcom ruled that neither would be investigated further.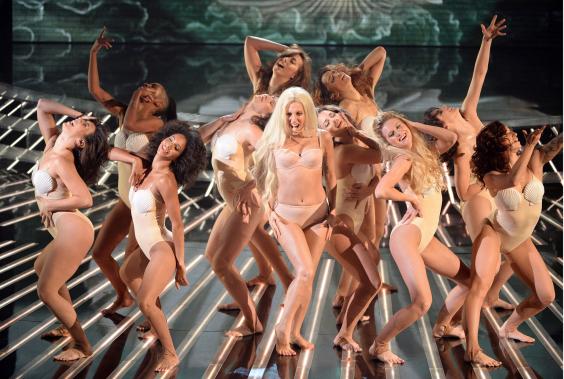 Third on the complaints list was ITV News with 574 complaints, 278 of which related to its graphic pre-watershed coverage of the Woolwich murder of Lee Rigby.
Once criminal proceedings are concluded, an Ofcom investigation will take place, with BBC News, Channel 4 News, 5 News and Sky News among other broadcasters to be examined.
Celebrity Big Brother was fifth on the most complained-about list with 438 complaints. One memorable incident involved The Only Way Is Essex star Mario Falcone receiving an official warning for drunkenly appearing to slap underwear model Sophie Anderton in the garden.
Britain's Got Talent, Emmerdale, BBC News, Coronation Street and Downton Abbey completed the top ten.
A rape scene in Downton Abbey lead to over 90 complaints for the episode, which saw Joanne Froggatt's character Anna Bates brutally attacked behind closed doors.
Celebrity Big Brother 2007 holds the record for the most number of complaints about a TV programme in the past ten years.
Over 45,000 viewers contacted Ofcom after the late Jade Goody became engaged in a racism row with Bollywood actress Shilpa Shetty.
Top ten TV complaints of 2013
Top ten TV complaints of 2013
1/10 Rowan Atkinson's Archbishop of Canterbury sketch on Comic Relief was the most complained-about TV moment of 2013 with 487 complaints.

BBC

2/10 LadyGaga's risque performance on The X Factor results show, along with Robin Thicke's 'Blurred Lines' show helped The X Factor rack up 734 complaints.

The X Factor

3/10 Ofcom received 965 complaints about 2013's Big Brother, with contestant Jemima Slade's racist remarks notching up the numbers.

Getty Images

Getty Images

4/10 Ofcom received 574 complaints about ITV News after its graphic pre-watershed coverage of Lee Rigby's murder.

ITV

5/10 Celebrity Big Brother was complained about 438 times after a 'slapping' incident between Sophie Anderton and Mario Falcone.

PA

PA

6/10 Shadow dance act Attraction won this year's Britain's Got Talent, but the show picked up 422 Ofcom complaints.

Britain's Got Talent

7/10 Soap opera Emmerdale picked up 376 complaints after a shock murder scene that saw character Gennie Sharma suffocated by killer Cameron Murray following a car crash in July.

ITV

ITV

8/10 BBC News was complained about 354 times, primarily for its graphic coverage of Lee Rigby's murder.

BBC

9/10 Joanne Froggatt as Anna Bates, who was raped by a visiting valet in Downton Abbey. The ITV drama notched up 252 complaints in 2013.

ITV

10/10 Soap opera Coronation Street was complained about to Ofcom 225 times.

Coronation Street
Reuse content