A show out of ideas teams up with a show out of episodes (their words not mine, that's the actual tagline) in November, when Futurama and The Simpsons join forces for a special crossover episode.
Entertainment Weekly posted the first image from it today, seeing Bender terrorising Homer with an array of weapons.
"We do a joke, actually, about how similar Bender and Homer look, like, they just erased Homer's hair," Simpsons exec producer Al Jean told EW of the pair.
We also got some details on the plot of the episode, entitled 'Simpsorama', which are as follows:
"The crossover will unspool a complex, Terminator-esque story that involves Bart blowing his nose on a sandwich that he places in a time capsule. When that mixes with Milhouse's rabbit's foot and some radioactive ooze, it creates a global catastrophe in the future, prompting Bender to travel back in time to kill Bart and prevent this mega-mess."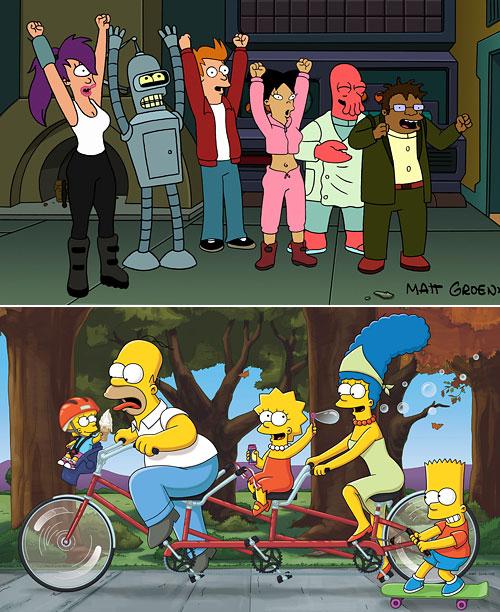 The outline suggests we'll see a lot of jumping backwards and forwards through time, keeping the humour of the Simpsons and the sci-fi genre of the Futurama.
While the two shows are both the work of Matt Groening ("That was a really tough one to negotiate, because I had to talk to myself," he joked), Simpsons will also do a crossover episode with rival show Family Guy later this month, with a five-minute trailer recently being released for it.
Reuse content