The Sopranos celebrates its 15th anniversary this year, and re-watching the unrivalled drama in 2014 you are reminded how peculiar, iconic and era-defining its costume was. I caught up with lead costume designer Juliet Polcsa to find out how such flamboyant clothing was paired with such neanderthal characters.
CH: Tony Soprano had a fantastic array of shirts – two tones, Hawaiians, almost Picasso-esque checks – where did you source them all from?
JP: They came from so many different sources. Nat Nast, Burma Bibas, Genelli were some prominent brands. Wherever I could find them, I bought them!
Any idea where they all are now? I would pay my life savings for that Tabasco bottle shirt (below).
A big chunk of the show's wardrobe ended up archived at the Warner Bros Archives in California. I can't remember if that Tabasco one ended up there. I actually was not fond of that shirt. One of the show's writers came up with the idea but I felt it was not in keeping with the other shirts in Tony's closet.
Yeah, I guess it was a little garish even by Tony's standards.
Did David Chase have a clear vision for how he wanted the main characters to look, or were you able to experiment?
Yes and no. A little bit of both. David was very clear that he wanted these characters to be true to life, no stereotypes. Silvio was a fun character to experiment with, as was Furio and Adrianna.
Between first season and last Tony becomes a good deal richer, was there a conscious effort to reflect this in his attire?
A little, but not much. Tony was still a bit of an Everyman, so being flashy would take the viewer out of that. His suits did get better though. Mostly because I found a better tailor!
I guess as the show went on there were fewer polo shirts and more fine suits…
Less polo shirts became more of a necessity as Jim Gandolfini gained more weight. He wasn't comfortable in knits that clung to him.
Were you going for a more nouveau riche look with the suits than a refined taste?
Tony was always a bit more elegant than his crew, it behooved a boss of his stature. He never wore those loud ugly ties that his crew favored. "Goomba" ties I called them.
As the boss, Tony received countless gaudy watches and other expensive accessories from grovelling underlings, did he ever actually wear them?
No.
There are rumours that James Gandolfini occasionally got calls from wise guys offering him tips and one advised him to never wear shorts. Dons don't wear shorts. Were you aware of this, and were any other Italian American mafia sartorial rules you had to adhere to?
Jim did not get call from wiseguys about his wardrobe. The "don doesn't wear shorts" comment came from a store owner in Brooklyn that I dealt with. Many real made guys frequented his store. He was almost like my technical consultant! After the end of season one, his only critique to me was about the shorts. I told David Chase and he loved that, and put it in the show.
Let's talk about Silvio Dante. That permanent expression of indifference he wore was so funny because of the contrast with his loud suits, what was the reason behind his flamboyant dress sense?
Stevie Van Zandt felt some of his character's sartorial choices should be influenced by the way DeNiro dressed in the film "Casino". Yet we added his own spin on that concept.
And Paulie Walnuts, the rows of pristine white plimsolls in his closet were clearly a nod to his obsessive compulsive ways, but why so many shell suits? Was this to highlight his being from an older generation of mafiosos?
It was exactly how those real made guys dressed! We referred to them as track suits but they were also called a "Bensonhurst tuxedo" by some (Bensonhurst is an area of Brooklyn that has a large Italian population).
Which was the most challenging character to dress on the show?
Ginny Sack.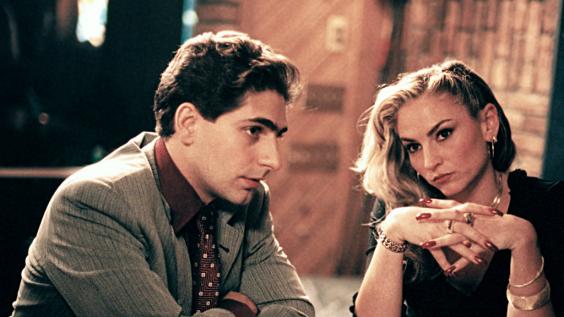 And which the most fun? My guess would be Adriana.
Adriana for sure, but also Carmela, Silvio and Furio were great fun.
If The Sopranos were being made now, would the clothes be more difficult to source? Re-watching it back the clothes feel from such a different era.
Oh without a doubt. But the show wouldn't look the way it did then. That era is over and people, fashion, technology have changed everything. The Sopranos as we shot it remains as a time capsule to the mob of 1999-2007.
How did the cast feel about their costumes? Were any cast members particularly fond of certain outfits? I know Bryan Cranston was keen to hold onto his pork pie hat from Breaking Bad after filming wrapped…
The cast was very happy with their costumes. At the end of every season, Jim Gandolfini had it in his contract to take whatever of Tony's wardrobe that he wanted. And he did. I think many cast members took costume "tokens" at wrap.
The Sopranos: The complete collection on Blu-ray is now available.
Reuse content