BBC Breakfast presenter Susanna Reid has elicited a verbal commitment from Arctic Monkeys frontman Alex Turner to take part in Strictly Come Dancing 2014.
The broadcaster, 42, who is herself taking part in the BBC dance competition this year, spoke to the lead vocalist about his new record AM which looks set to overtake Daft Punk's Get Lucky as the fastest-selling album of the year.
Referencing one of the Glastonbury headliner's most famous hits, Reid said: "When I said I was interviewing you people did say, are you going to do Strictly? Because they bet you look good on the dance floor."
Turner, 27, looked momentarily embarrassed, before saying: "Of course. Definitely. Yeah."
She joked: "Shall I give you the 2014 contract to sign now?"
Their exchange prompted a huge response on social networking site Twitter, with people suggesting the pair had been flirting.
A social media frenzy was sparked when Turner turned to Reid and said: "I should have been the one to say I bet you look good on the dance floor, shouldn't I?" To which a rather flustered Reid said she looked "a mess, actually" in her Strictly outfit and Turner said "I doubt that."
The interview prompted Reid's co-host Bill Turnbull to remark on the "rapport" between them and described it as an "exhilarating encounter".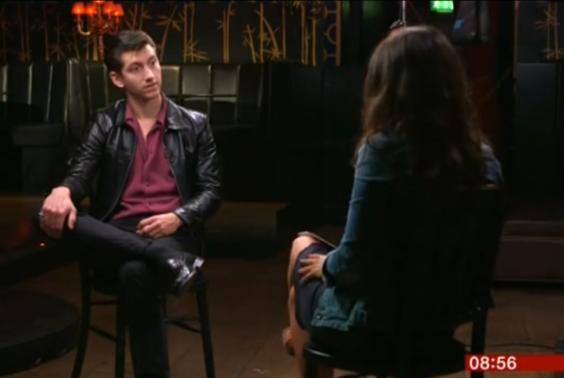 Reid has three children with her longterm boyfriend Dominic Cotton; while Turner is dating American actor Arielle Vandenberg.
"I Bet You Look Good On The Dancefloor" was the Arctic Monkeys' first single from their debut album Whatever People Say I Am, That's What I'm Not. It debuted at number on in the UK Singles Chart in October 2005.
The band performed the track at the Opening Ceremony of The London 2012 Olympics.