In America no sporting event is complete without getting the audience to dance badly before flashing images of their embarrassing antics on giant screens. This is known as "jumbotron dancing".
Last night, to celebrate The Tonight Show's one-year anniversary, Taylor Swift and Jimmy Fallon showed off their jumbotron dancing moves as the pair pretended to attend New York sporting events and got their groove on when the dance cam spotted them.
They can be seen jumping out of their courtside seats and throwing popcorn to "shake it off" to popular hits like Pitbull's "Fireball" and "Maniac"—the iconic tune from 1983's Flashdance. The duo sported jerseys from various teams like the Brooklyn Nets and New York Giants during the live performance.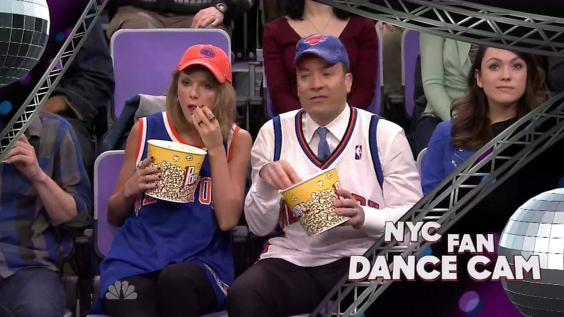 While Swift has a knack for dancing at award shows, the pop star has more songs on the way as well. On Tuesday, the singer announced plans to release bonus tracks off her 1989 album on iTunes— beginning with "Wonderland" yesterday evening.
1989 marks Swifts fifth studio album — which debuted at number one on the Billboard 200 in October and became 2014's best-selling album. The music video for 1989's latest single, "Style", premiered this week.
Reuse content