We're nearing the final of The Great British Bake Off and tensions are high - who will win: Tamal Nadiya or Ian?
As you may know, the show is filmed far in advance, so certain members of the BBC already know who will come up top. According to a report in The Sun, some people "in the know" have been placing large bets on one of the contestants, leading to allegations of a 'scandal' at the BBC.
It is claimed that 529 bets have been made by 42 suspicious accounts recently opened with Ladbrokes. They are allegedly linked vicariously to dozens of BBC employees.
The source said: "Whoever's doing this thinks they're being very clever. But they aren't that smart as they've been using their own names to open accounts. Pretty much all the accounts punted on one baker. They clearly know something we don't."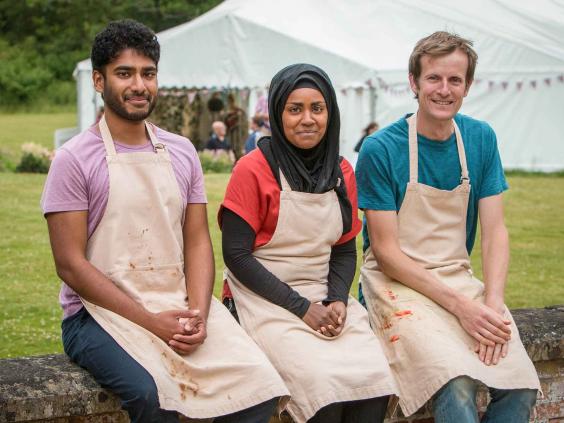 Ladbrokes will reportedly have to pay out £10,000 if the contestant goes on to win. 
The 'scandal' story was also picked up by The Mirror, with their source saying: "Even when we made the price very short so they wouldn't win much they continued to try to put more money on and at this stage there were more contestants left in the competition than there are now, but it was clear they seemed to know the winner and it looks like it was a case of insider trading."
The BBC have since denied any involvement whatsoever. A spokesperson said: "We have no knowledge of these claims and have asked The Sun to provide us with details to be able to look into it. We are still waiting."
The final will see Nadiya Jamir Hussain, Tamal Ray and Ian Cumming battling it out in the kitchen. They'll be trying to impress judges Mary Berry and Paul Hollywood with their show-stopping cakes as part of cake week.
Great British Bake Off winners: Where are they now?
Great British Bake Off winners: Where are they now?
1/4

Series 1, 2010- Edd Kimber

Edd Kimber was only 25 when he was crowned the first winner of The Great British Bake Off.

He has since worked in the pastry kitchen of Raymond Blanc's restaurant Le Manoir, and has written two books, 'Say it With Cake' and 'The Boy Who Bakes.'

Kimber has given up his day job in bank litigation and now runs master classes in London, teaching baking fanatics how to make French delicacies.

2/4

Series 2, 2011- Joanne Wheatley

Joanne Wheatley became the first woman to win The Great British Bake Off in 2011.

A strong contestant throughout, the housewife from Essex said winning the show gave her the opportunity to start cooking classes from her home.

She now runs a series of popular cooking master classes from her home in Ongar, Essex, and specialises in teaching cooking for old stove AGA ovens.

She has written two books, 'A Passion for Baking' and 'Home Baking', and has her own column in Sainsbury's monthly magazine.

3/4

Series 3, 2012- John Whaite

Former law student Whaite has swapped law school for pastry classes since winning The Great British Bake Off last year.

The 24-year-old has since studied patisserie at Le Cordon Bleu restaurant in London, and published a book, 'John Whaite Bakes: Recipes for Every Day and Every Mood.' He is currently writing his second, which will be published in March 2014.

Whaite is also an ambassador for Baking a Smile, a charity which provides cakes and baking workshops for children with terminal illnesses.

Like Edd and Joanne, he holds cooking classes from his home in Greenwich, where he lives with his partner of five years.

BBC

4/4

Series 4, 2013- Frances Quinn

Recently-crowned winner Frances Quinn has revealed she's been approached to write a coffee table-style cookery book

The children's clothes designer has yet to reveal whether she would like to pursue a full-time career in baking, although no doubt her inventive designs would make for a beautiful looking cook book.

Love Production
Last week's semi-final saw 10.2 million viewers watch 19-year-old Flora Shedden sent home, with the final expected to be the biggest episode in the hit BBC show's history
Reuse content