Anyone still pining after the soggy bottoms and cringeworthy puns of The Great British Bake Off, make a note in your diaries, for tonight sees the launch of its "messier cousin", The Great Pottery Throw Down. 
Ten potters from up and down the UK will be making their way to the home of the British pottery industry, Stoke-On-Trent in Staffordshire, to begin their quest to be crowned Top Potter.
Hosted by radio DJ Sara Cox and produced by the same company as the Bake Off, the Throw Down will inevitably remind viewers of that sexy potter's wheel scene from 1990 movie Ghost. 
Meet The Great Pottery Throw Down contestants
Meet The Great Pottery Throw Down contestants
1/11 Matthew

Matthew is the youngest potter aged 23. Both his parents are ceramics teaches and his harshest critics. He is artist in residence at a North Yorkshire boarding school and always dresses in a suit. Matthew spends around 25 hours a week at the wheel and enjoys throwing huge pieces. He is a keen cyclist and recently rode from the Orkney Islands to Morocco in 23 days.

BBC

2/11 Tom

Tom lives in Gloucestershire with his university sweetheart wife, Becky and their four young children. Tom, 41, joined the army he 1996 and left nine years later as Major Tom. His army friends used to laugh at Tom's passion for pottery but stopped after he made them all beer tankards. Tom is a big rugby fan and helps at his kids' rugby club when not working as a freelance sales and marketing consultant. He describes himself as a perfectionist.

BBC

3/11 Nigel

Nigel discovered his love for pottery late in life after 30 years working in construction. A 52-year-old father of two from Derbyshire, he was told to 'go and get a hobby' by his wife. Nigel went to university to earn a ceramics degree and has since been potting for eight years in his cellar and laundry room.

BBC

4/11 Joanna

Joanna began potting 12 years ago when looking for a new pot for her bonsai tree and deciding to make her own. She is 42, widowed and lives with her 15-year-old son in West Sussex, along with alpacas, donkeys, chickens and goats. Joanna is a parish councillor and makes tea and cakes for local events.

BBC

5/11 Jane

Jane is a part-time teacher who lives with her husband and two young children in North Wales. A self-deprecating farmer's daughter, she describes her family as "grubby, dusty and with clay in their curly hair". She has been potting for 22 years after graduating from a ceramics course and landing a two-year apprenticeship at Whichford Pottery.

BBC

6/11 Sandra

Sandra recently became a grandma to a baby girl. She lives in Leeds and works as a community arts project manager. Sanda, 52, has been potting for 16 years after longing to "get her creative juices flowing again" following the birth of her second child. She enjoys singing at the wheel and also loves salsa dancing, photography and knitting.

BBC

7/11 Rekha

Rekha moved to the UK in 2000 after marrying her husband. She was born into a conservative family in Mumbai, India but now lives in Buckinghamshire. Rekha, 49, has been working with clay for 6 years after completing a fine art course at Central Saint Martins. She practices pottery in her garden studio and works as a conceptual artist, curating exhibitions.

BBC

8/11 James

James is a vet from Bristol who nearly became an artist but chose to "play it safe". He lives with his partner Mark on a woodland estate and is the least experienced potter having started just three and a half years ago at an evening class. He likes to throw heart-shaped platters in his garden shed.

BBC

9/11 Sally-Jo

Interior designer Sally, 33, lives in Hampshire and has been potting at an evening class for five years. She is known for chatting and drinking tea while throwing and is engaged to be married.

BBC

10/11 Jim

Jim, 52, is a part-time painter and decorator from West Sussex. He supplies some 250 dinnerware items to an up-market hotel supplier each year and has been potting for 25 years in his garden workshop. Jim is also the lead singer and guitarist in his band, Slim Jim and the Wildcards. He likes to host pottery parties for his nine-year-old daughter and spend time dancing with his wife of 10 years.

BBC

11/11 The host and judges

Judges Kate Malone and Keith Brymer Jones with host Sara Cox

BBC
But while BBC2 sadly can't promise us Patrick Swayzes and Demi Moores, there will be naturally-occurring innuendoes to make up for the lack of Bake Off duo Sue Perkins and Mel Giedroyc. Just try to stifle your giggles at any "phallic-looking" pots because this is a serious competition, alright?
"You don't need to add puns in if you're discussing making pottery because you're already talking about cracks and rims," Cox told Radio Times. "I got so used to chatting about somebody's rim on the show that I just wouldn't laugh at that sort of humour, or make a thing of it. Obviously kids are watching as well, so you don't really need to do any of that."
The first episode of Throw Down will put the potters through their paces with a four day assignment making stackable kitchen bowls from lumps of clay.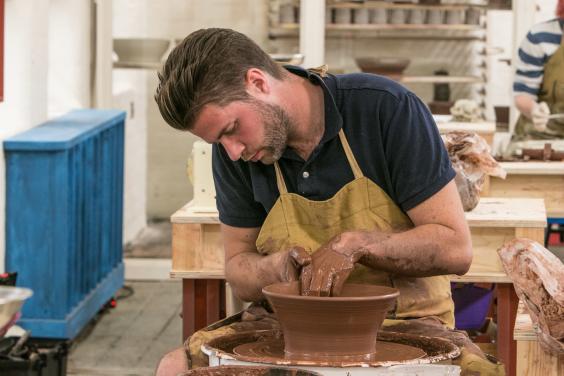 Judges and renowned potters Kate Malone and Keith Brymer Jones will be keeping beady eyes out for the most-skilled artists, particularly in the Spot Test when they will be asked to show off their technical ability in a timed challenge involving attaching handles onto mugs. 
The tensest moment will come when the potters battle to throw as many egg cups as they can in just twenty minutes while every episode will culminate with the unveiling of the Main Make, presented straight from the ever-unpredictable kiln. This is truly heart-racing stuff. 
The Great Pottery Throw Down begins tonight at 9pm on BBC2.