He may be renowned as Britain's greatest Olympian but Channel 4's winter sports contest The Jump has defeated Sir Steve Redgrave.
The five-time gold medallist has made the emotional decision to pull out of tonight's final after a series of training injuries, including breaking a bone in his hand.
The Jump has been plagued by celebrity bumps and bruises, with glamour model Melinda Messenger and socialite Henry Conway among those forced to surrender after risking life and limb, quite literally, in the grapple for TV fame. 
Messenger suffered minor concussion while bobsleigh training and Conway also broke a bone in his hand during the men's skeleton.
Flash Gordon star Sam Jones was out before the series even began after injuring his shoulder celebrating a successful jump in training - cringe.
It remains unclear whether comedian Marcus Brigstocke while be taking part in the live ski jump finale in Austria this evening, as his knee is currently strapped up in a splint.
The comedian is said to have "popped" his knee as he tackled the jump on the course and has been treated by the programme's medical team. Show bosses are now looking into whether they need to change the format of the final as they are unsure whether he would be able to take part in the jump-off.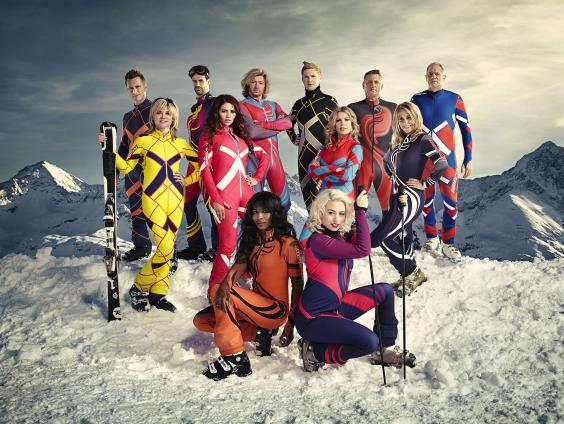 During an interview with The Independent last month, Brigstocke jinxed himself. "We've had some very severe injuries, a few broken bones," he said. "All I can say with a big smile on my face - not smugly but with relief - is that so far I'm fine."
The only other contestants still standing, replacements X Factor winner Joe McElderry and journalist Donal MacIntyre, have also been struggling on the slopes.
McElderry narrowly avoided injuring himself during the last 'ski cross' challenge, while MacIntyre crossed the finish line with one ski after losing the other mid-course. The hazardous heat involves navigating a number of tricky obstacles at high-speed.
Redgrave had been cleared to take part in tonight's dramatic closer after he was left with a fracture following an incident last week that led to him missing a live show. But as the rowing champion tackled the 'ski cross' course in a training run, he became hesitant about a large jump. Redgrave manoeuvred to avoid it but then suffered a fall, leaving him in pain.
The competitive sportsman was said to be upset when he confirmed that his time in The Jump was over.
The Jump finale starts tonight on Channel 4 at 9pm