Sir Tom Jones turned a media launch for The Voice, the BBC talent show which has consistently failed to find a star winner, into an episode of The Thick of It after having to clarify, twice, a comment that this year's talent pool was "s**t."
Sir Tom, a coach on the BBC1 "revolving chairs" show, which returns for a fourth series on Saturday, caused a PR meltdown after appearing to damn the hopefuls who are seeking to break The Voice UKs' duck when it comes to producing an international star.
Appearing on a panel alongside his fellow coaches, Sir Tom, 74, finished will.i.am's opening remark that "the talent this year is…" by appearing to utter the word "s**t".
Asked later if that indeed was his view, Sir Tom confirmed he had said the word but explained: "It just slipped out. I hope it wasn't a Freudian slip."
However as word spread on Twitter of the gaffe, Sir Tom entered a huddle with the show's PR minder. Perhaps alternatives such as Jeremy Clarkson's formula of "Please be assured I did everything in my power to not use that word" after his recent racism furore, were discussed.
But Sir Tom returned to the media huddle to further explain his "sex bomb-shell", appearing more like a minister forced to publicly recant an embarrassing error on BBC Whitehall satire, The Thick of It.
"Just to clear this up, when I said the talent this year was s**t it was a joke. I like a joke. And when I said I hope that's not a Freudian slip, that was a joke on top of a joke. It was not a Freudian slip. You know what I'm saying. "
Sir Tom explained: "The talent this year is excellent. I think we have a great variety of singers. There are no copycats."
Sir Tom, 74, may have been wilting at a lavish media launch, staged at the Mondrian Hotel overlooking the Thames, which lasted more than four hours – longer than the career of a Voice winner, one attendant noted.
This year Rita Ora replaces Kylie Minogue on the coaches panel, which again features Ricky Wilson of the Kaiser Chiefs.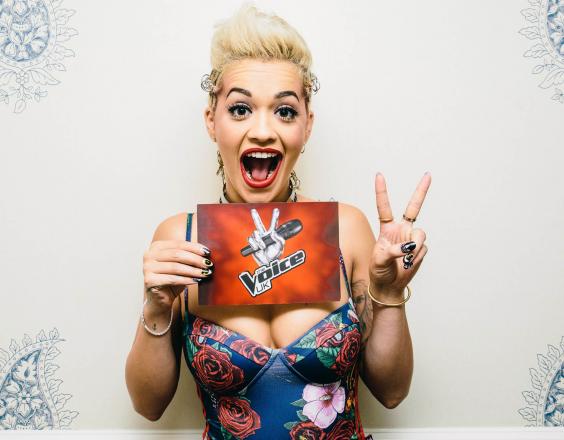 Earlier in the day BBC News mistook last year's winner Jermain Jackman for the US star Jermaine Jackson. Sir Tom said the lack of chart success for The Voice UK's winners was "not a concern of the coaches. That's the BBC's headache. They get a record contract but that doesn't guarantee a hit record."
The producers had encouraged more banter among the coaches and turned the bright lights on its star coaches. "It's great if that's what they want," Sir Tom said. "I'm not criticising it but it looked bright and lit. If that's what they want on Saturday night, great."
Will.i.am said The Voice "needs to produce a star because it would legitimise the whole talent search concept." He blamed music industry insiders for failing to provide the series winners with songs and a production team immediately after the final, so that they could capitalise on their victory.
The winners on The Voice are the coaches, who use it to promote their new releases. Will.i.am said: "If you're on The Voice, you're on TV more than we are. Rita and I will ask to perform our new singles on the show but they will probably say no."
Ricky Wilson said there was limited exposure for established music artists on television - it was a struggle for bands like his group Kaiser Chiefs to even get on The Graham Norton Show, he said.
Jermain Jackman, the Hackney singer and Labour activist, who releases his debut album in March, said he was confident that chart success would come his way.
He told The Independent: "I've got a great team with me. I'm working hard to bring some success. It takes time to write an album. You need to put the right amount of effort into a record that's going to represent you in the charts."
The Voice is regarded as a success by the BBC, regularly attracting 8 million viewers, including a younger audience which might not normally watch broadcast television.
Reuse content