Chris Evans has spoken about his anxieties ahead of taking the Top Gear reigns from Jeremy Clarkson, describing the move as the biggest in his career yet.
The Radio 2 DJ described the pressure surrounding his upcoming Top Gear hosting debut as "a bit like being [the new] Doctor Who".
In an interview with BBC's Top Gear magazine, he said: "This is, without doubt, the most challenging thing I have ever done in my career," comparing his move to when he took over the Radio 2 show from Terry Wogan.
"People kept saying [after Wogan] I had 'big shoes to fill', and they're saying it again now. I don't mean they're wrong or they're right, it's just such a predictable thing to say – and, by the way, Jeremy is very tall, so they're even bigger shoes."
He added: "There have been 34 presenters, so it's a bit like Doctor Who."
Chris Evans: Career in pictures
Chris Evans: Career in pictures
1/15 Chris Evans

Chris Evans in a studio, 1980s

2/15 Chris Evans

(L-R) Gaby Roslin, Chris Evans, Paula Yates and Mark Lamarr on Big Breakfast TV Show, 1992

3/15 Chris Evans

Chris Evans on the day of his 30th birthday, in London, 1996

4/15 Chris Evans

Chris Evans in 1997

Rex Features

5/15 Chris Evans

Chris Evans of England wears a policeman's hat having fun with Mark O'Meara captain of the USA team on the range before the fourball matches on the first day of All-Star Cup on the Roman Road Course at The Celtic Manor Resor in Newport, 2005

6/15 Chris Evans

Chris Evans and Ronan Keating arrive at the Gala Dinner on the first day of the Northern Rock All Star Cup at the Celtic Manor Resort in Newport, 2006

7/15 Chris Evans

Chris Evans poses in the awards room with the Music Radio Personality of the Year Award at the Sony Radio Academy Awards 2007 at Grosvenor House Hotel in London

8/15 Chris Evans

Chris Evans presents during 'Thank You For The Music - A Celebration Of The Music Of Abba' at Hyde Park in London, 2009

9/15 Chris Evans

Radio 2 DJ Chris Evans and David Cameron appear on the Andrew Marr show on BBC TV in London, 2010

10/15 Chris Evans

Chris Evans and Moira Stuart during Chris Evans' first day as the host of the Breakfast show, the position he took over from Sir Terry Wogan, 2011

Mark Allan/BBC/PA Wire

11/15 Chris Evans

Chris Evans interviews Luke Darlington (L) Prince Harry and JJ Chalmersfor his breakfast show at BBC Radio 2 Studios in London, 2014

12/15 Chris Evans

Radio 2 DJ Chris Evans attends the F1 Grand Prix of Monaco, 2015

Getty Images

13/15 Chris Evans

Chris Evans with Jeremy Clarkson outside BBC Radio 2 Studios, 2015

Rex Features

14/15 Chris Evans

Chris Evans meets Camilla, Duchess of Cornwall, following the launch of BBC Radios 2's '500 Words', a children's story writing competition which is supported by the duchess, in the Morning Room at Clarence House in London, 2015

15/15 Chris Evans

Chris Evans at the celebrity start at The London Marathon 2015 in London
Evans remained tight-lipped about who was in the running to replace Richard Hammond and James May on the show. Jodie Kidd, Philip Glenister and Guy Martin are among the bookies' favourites to join the Top Gear 'dream team'.
"There's a lot of talk about talent at the moment. Honestly, it's not the furthest thing away from my mind, but it is quite distant compared to directors, producers," he said.
He did however say the presenting team was "nearly in place…we're very close".
Evans said he would not do away with popular segments on the show such as 'star in a reasonably priced car', saying it would be "silly to throw the bath out with the bathwater".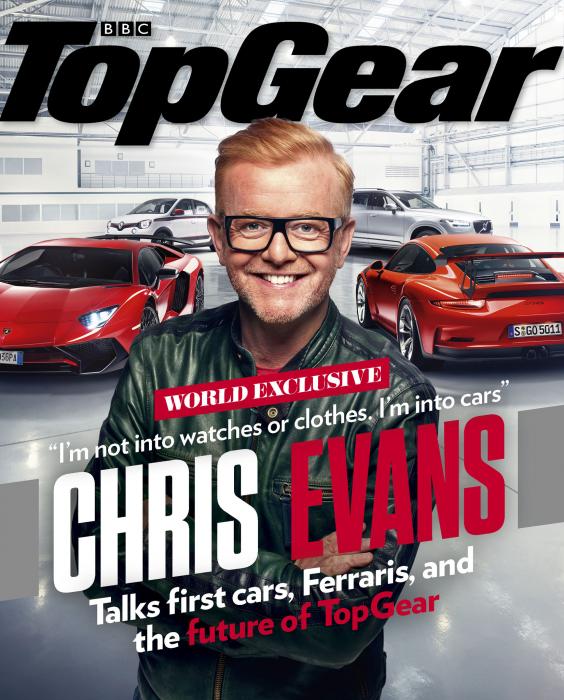 He did acknowledge that some things would have to change, but he couldn't say what.
"Nothing has to [change], but some things will. I can't tell you what precisely."
Evans, who initially dismissed rumours he was joining Top Gear, said he was eventually persuaded by Will Macdonald from Channel 4'a TFI Friday.
"He said, 'Why would you not do this? And that's the question. It wasn't 'Why would you do it?' but 'Why wouldn't you?' If I make television programmes for a living and love motor cars and I love the biggest challenge in the world, why wouldn't I do it?"
Top Gear will return with a new trio of presenters in 2016.
Top Gear magazine is on sale from Wednesday.
Reuse content