While James May may have left Top Gear with Jeremy Clarkson after that infamous 'fracas', it doesn't mean he has any bad feelings towards Chris Evans who has taken over as host.
In fact, the 53-year-old hopes the now-rival car show does well, calling the BBC's attempt to reboot the long-running franchise a "ballsy" move.
"I'd like like to see Chris's Top Gear do well," he told Radio Times. "It's a ballsy call to continue it. I wouldn't want to be the one presenting it when we'd just finished, but there must be a way of re-inventing it. 
"We always said it would survive beyond us. I think the stories about Chris's version being in trouble might be an elaborate hoax, before it explodes onto our screens in brilliance."
May, who moved to Amazon Prime along with Clarkson and Richard Hammond, also said that it was "harsh" of the BBC to air the Top Gear 'best of' compilation - Top Gear: From A to Z - over the Christmas period.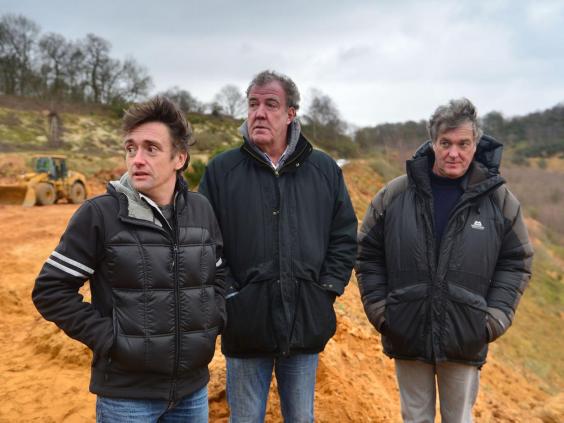 "I was surprised they showed lots of Top Gear compilations over Christmas," May said. "I thought: 'Oh, so now they're celebrating us,' but I also thought it was harsh on Chris Evans. Just as he's trying to launch his version of the programme, the BBC is saying: 'Look how brilliant it was before'."
However, he didn't discount working with the BBC ones again, stating: "The BBC may have ruled me out, but I don't rule out the BBC."
Speaking about the new Amazon show, May once again insisted it will not be called Gear Knobs and said it is "completely different" to Top Gear.
Things you never knew about Top Gear
Things you never knew about Top Gear
1/14 Top Gear isn't really for adults

It's 'aimed at people with a mental age of nine', according to executive producer Andy Wilman.

BBC

2/14 Planet Earth loves it...

Top Gear is screened in more than 100 countries worldwide and has millions of fans.

BBC

3/14 ...but not all motoring hacks do

You might think Jezza was a hero of the motoring hack world but that's not strictly accurate. Telegraph journalist Neil Lyndon summed Top Gear's 21st birthday last year up well: 'Does that mean Billy Bunter and his gang finally get forced out of the Fourth Remove and into long trousers?'

BBC

4/14 The Top Gear theme tune is a classic rock song

Seven-minute instrumental 'Jessica' by The Allman Brothers was a hit in 1973. Top Gear has recorded its own version now but used part of the original recording at first. One for the road trip playlist.

5/14 Jeremy Clarkson couldn't get much more controversial if he tried

The presenter is currently suspended from the BBC following a 'fracas' with a producer over a steak dinner. Past scandals include a string of racism allegations.

PA

6/14 This Porsche caused all sorts of trouble in Argentina

The Top Gear team were forced to flee Argentina after locals took offence at the car's number plate - believing it was a deliberately provocative reference to the Falklands War of 1982.

AP

7/14 If it's car-buying advice you want, look elsewhere

It's an in-joke in Top Gear that they don't do car tests. You would be mad to make a purchases based on Jezza's verdict.

Getty Images

8/14 Richard Hammond had a near-death experience filming Top Gear

The 'Hamster' was filming a Top Gear segment in a dragster called Vampire when its front-right tyre burst at 288mph. Hammond spent two weeks in a coma but luckily went on to make a full recovery. He requested that no mention of the crash was made in future Top Gear episodes.

Getty

9/14 Jeremy Clarkson is more than a little bit taller than Richard Hammond

Nine inches, to be precise.

Rex

10/14 Top Gear used to offer real advice

Before these lads took over, it was a real car-reviewing show with presenters such as Angela Rippon, who gave practical reviews of down-to-earth workhorses such as Cavaliers or Mini Metros.

Getty Images

11/14 Those 'reasonably priced' cars take quite a battering

Denis Chick, of Vauxhall, is brave to have lent the show a fleet of his Astras. He said: "Vauxhall Astra sales would not improve if everyone drove like Jimmy Carr around the Dunsfold track." The comedian hilariously took his test car's front off-side tyre clean off its rim.

BBC

12/14 Jeremy Clarkson is a YouTube star

Stray down the motoring internet hole and you'll find lovingly posted videos of 'Clarkson the early years' with incredibly loud hair reviewing 1990s cars in an oddly sensible manner. Very disturbing viewing.

Getty Images

13/14 There have been multiple Stigs

Racing driver Perry McCarthy was stuntsman The Stig on the first two series of Top Gear - here's the man under that famous helmet.

Rex Features

14/14 Ben Collins was The Stig for eight years

Ben Collins was The Stig on Top Gear for eight years. He left amid a clash with the BBC when he unmasked his identity and published an autobiography. Collins thinks Top Gear has 'lost some of its sparkle'.

Rex Features
"We've managed to keep everything we've done so far completely secret, which we could never do on Top Gear," he said. "The content is completely different. People are saying: 'Now you're with Amazon, you can swear and punch each other in the face'. But why would we want to do that? It would be rubbish."
May also spoke about the possibility of the new show failing: "How could it [fail]? There are too many people who, like us, like messing around with cars. 
"It would need some sudden seismic viewing shift, for reasons no one could possibly understand. Nor can it detract from what we achieved with Top Gear, because we won't be just another version on another platform. What's the point?"
Meanwhile, Chris Evans's Top Gear has been hit numerous speed bumps along its long drive to the TV screen. Only days ago was the presenter spotted 'looking car sick' at the side of a race course, while the show's executive producer left the show late last year.
Reuse content