Cambridge University student Kaamil Shah got a taste of the viral spotlight yesterday when his decision to don a leather vest and gold chain on University Challenge sparked a social media frenzy.
Shah, a 21-year-old history student at King's College, has revealed his surprise at how much attention his dubious fashion choice received as he "just didn't clock that the vest would be that outrageous".
The BBC2 quiz show is hosted by Jeremy Paxman and known for its rigorous questions. Contestants often appear in demure knitted jumpers or suits but Shah simply wanted to shake things up a little and be himself.

"On top I had a half leather vest top, sleeves cut off and arms bared. To be honest I didn't think that it was too out of the ordinary. I just thought, I can't look like the same old University Challenge contestant because I don't feel like the same old University Challenge contestant," he told BBC Radio 5 Live.
"Maybe it's because I'm not as smart as those normal contestants but I definitely didn't want to wear a Christmas jumper or a boring suit, so I thought I'd just dress how I normally do."
Daytime TV controversies
Daytime TV controversies
1/14 Eamonn Holmes caught making 'V-sign' at cameraman during This Morning

This Morning viewers were faced with Eamonn Holmes apparently flicking the V-sign at a cameraman during a live broadcast. The presenter was left red faced when his gesture was accidentally captured during a segment about infidelity and quickly caught the attention of Twitter users. Explaining the mistake, Holmes said it was a symbol used to ask producers to switch cameras and blamed the accident on the way the interview was filmed.

Rex Images

2/14 Bill Turnbull drops c-bomb on live TV

The BBC Breakfast presenter Bill Turnbull had viewers spitting out their cornflakes this morning after swearing on live TV. Turnbull made the gaffe whilst reading out an email from a viewer, which was meant to read "He was meant to say: 'I regularly speak to clients about illness and pass the knowledge onto other clients as well." Instead the 59-year-old TV personality, who was educated at Eton College, fluffed his lines, accidently saying that he regularly passes knowledge onto other 'c***s' as well.

BBC

3/14 This Morning turns Fifty Shades of Grey

To tie-in (literally) with the release of a certain BDSM-themed blockbuster, This Morning presented a 'Bondage for Beginners' segment featuring feathers, blindfolds, sexy lingerie and not a lot else besides. Ofcom received more than 120 complaints before clearing the item.

4/14 This Morning airs bare breasts for cancer awareness

This Morning aired a segment teaching people how to perform breast cancer checks. Many viewers tuned in to see a topless woman on their tellys but fortunately most praised the show for dealing with an important issue.

ITV

5/14 Jeremy Kyle gives audience strict telling-off

Kyle was forced to defend a guest on The Jeremy Kyle Show when the audience laughed at his story of male domestic violence.

ITV

6/14 The One Show receives 400 complaints over Rita Ora's revealing outfit

The BBC was forced to apologise after the singer put her cleavage on show pre-watershed

BBC

7/14 Paul Ross undergoes rectal examination live on air

Similar to the breast cancer checks, the presenter agreed to have the procedure live on telly to raise awareness.

ITV

8/14 Katie Hopkins goes on This Morning to prove how lazy fat people really are

The rent-a-gob put on 11 pounds and planned to lose it all to prove how easy it is for overweight people to lose weight

REX/Ken McKay/ITV

9/14 BBC Breakfast apologises after accidentally broadcasting penis drawn on Prince William's head

The image was broadcast as part of a segment that had absolutely nothing to do with Prince William or penises

@Joshubuh

10/14 Katie Hopkins begins her reign as national hate figure on This Morning

The Apprentice star infamously claimed she would never allow her children to play with other kids 'with names like Tyler and Charmaine'

ITV

11/14 Susanna Reid flirts outrageously with Alex Turner

The then BBC Breakfast presenter actually said 'I bet you look good on the dance floor'

12/14 Judy Finnigan forced to apologise after Ched Evans claims on Loose Women

The TV presenter said the rape 'was not aggressive'

13/14 Snake poos on dining table during Come Dine With Me

Just as dessert was being brought out

YouTube/Channel4

14/14 Countown goes up in our estimation

Presenter Rachel Riley worked hard to keep a straight face as two contestants on the show came up with the eight-letter solution 'erection' in the word game. Host Nick Hewer was not quite so controlled and got the giggles.

PA
Shah was so amused by the reaction to his vest that he updated his profile picture on Facebook to make it look like he was on the cover of NWA's rap album Straight Outta Compton.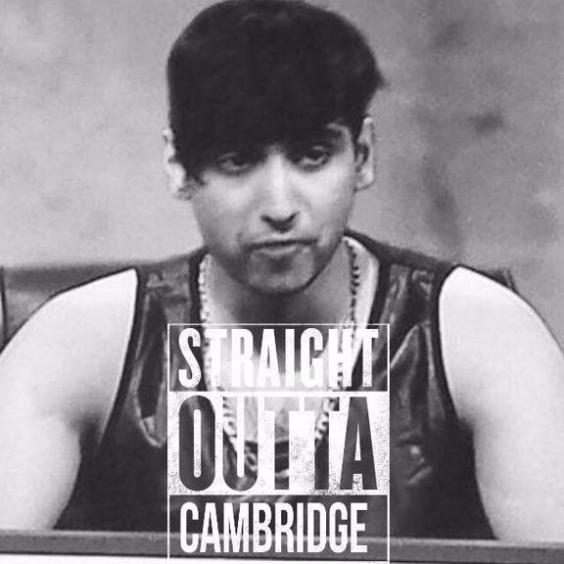 Sadly Shah's vest didn't bring much in the way of luck, with his team losing 60-195 to rival Cambridge college Sidney Sussex.