Game of Thrones "Purple Wedding" was met with much more joyful reactions than its previous red one last night, as this video of viewers calling for death while fist-pumping shows.
*Spoilers ahead*
The latest episode of the HBO drama saw King Joffrey's tyrannical reign come to an end when he was poisoned at his own wedding.
The video sees people filming their family and housemates' reactions as he begins to cough and splutter at the ceremony, with many breaking into cheers as his condition quickly deteriorates.
"Let him choke! Let him choke! Die!" one fan screams at the TV, while another wears a look of sheer satisfaction and pauses for a moment, before raising both fists and quietly saying: "Yes."
Its testimony to Jack Gleeson's performance that his character elicited such a strong response from fans, but Joffrey Baratheon may prove to be his last TV role as the 21-year-old plans to quit acting.
"When you make a living from something, it changes your relationship with it," he told Entertainment Weekly this week. "It's not like I hate [acting], it's just not what I want to do."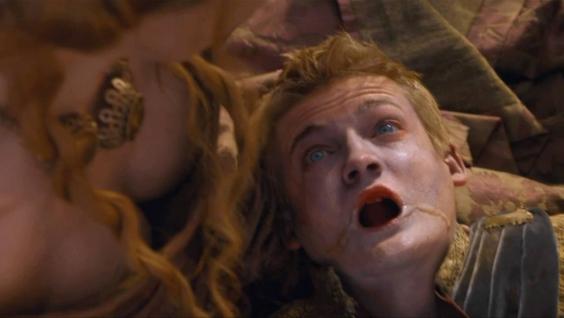 Game of Thrones season 4 episode 3 "Breaker of Chains" airs Sunday night on Sky Atlantic.
Reuse content