It might have been met with glowing reviews this morning, but viewers have been complaining that they simply could not see Wolf Hall in its full glory – quite literally.
The BBC2 drama, starring Mark Rylance and Damian Lewis, debuted last night but, while their performances were acclaimed, Twitter users soon began to bemoan the dim lighting.
Candlelight scenes designed to bring the atmosphere of Hilary Mantel's Tudor novel to life left many squinting at their TVs, including comedian Jason Manford and former Labour spin-doctor Alastair Campbell.
Trying to watch #WolfHall but can't see a fecking thing! #morecandlesplease #spoileralert #cromwelldies

— JasonManford (@JasonManford) January 21, 2015
Not entirely persuaded by the lighting strategy #WolfHall

— Alastair Campbell (@campbellclaret) January 21, 2015
Well I'm not a fan of the musical interludes or lack of lighting, but the rest is pretty good. Must finally read the book. #WolfHall

— Zadok Day (@Zadok_) January 21, 2015
Okay, I admit it, I gave up on #WolfHall. Great on paper, dark and dull in reality. Characters not introduced properly and lighting was hell

— Fiona Shoop (@FiShoop) January 21, 2015
Wolf Hall cast in pictures
Wolf Hall cast in pictures
1/15 Wolf Hall

Mark Rylance as Thomas Cromwell in Wolf Hall

BBC

2/15 Wolf Hall

Damian Lewis as Henry VIII in Wolf Hall

BBC

3/15 Wolf Hall

Claire Foy as Anne Boleyn in Wolf Hall

BBC

4/15 Wolf Hall

Anton Lesser as Thomas More in Wolf Hall

BBC

5/15 Wolf Hall

Jonathan Pryce as Cardinal Wolsey in Wolf Hall

BBC

6/15 Wolf Hall

Mark Gatiss as Stephen Gardiner in Wolf Hall

BBC

7/15 Wolf Hall

Kate Phillips as Jane Seymour in Wolf Hall

BBC

8/15 Wolf Hall

Thomas Brodie Sangster as Rafe Sadler in Wolf Hall

BBC

9/15 Wolf Hall

Tom Holland as Gregory Cromwell in Wolf Hall

BBC

10/15 Wolf Hall

Max Fowler as Mark Smeaton in Wolf Hall

BBC

11/15 Wolf Hall

Jessica Raine as Jane Rochford in Wolf Hall

BBC

12/15 Wolf Hall

Bernard Hill as Duke of Norfolk in Wolf Hall

BBC

13/15 Wolf Hall

Natasha Little as Liz Cromwell in Wolf Hall

BBC

14/15 Wolf Hall

Joss Porter as Richard Cromwell in Wolf Hall

BBC

15/15 Wolf Hall

Richard Dillane as the Duke of Suffolk in Wolf Hall

BBC
The dim lighting is making me sleepy. #WolfHall

— Val (@valpanna) January 21, 2015
Wish my tele wasn't so small and the screen so dark, literally can't see a thing with all this natural lighting #WolfHall

— Bella Howard (@bybellazine) January 21, 2015
I'm all for authentic lighting but I can't see a bloody thing #WolfHall @BBCTwo #frustrated

— Seriously Shallow (@wowshallow) January 21, 2015
Director Peter Kosminsky spoke at a recent BFI screening about the new cameras used to give Wolf Hall an authentic feel and help the cast immerse themselves in their roles.
"So we were lighting a room that existed at the time in the way it was designed to be lit all those years ago," he said.
@WELBooks loved the complaints over lighting. As if they had electric bulbs in the 1520s. Loved it. #WolfHall

— Napoleon (@NW6Penguin) January 22, 2015
Check out the authentic candle lighting on #WolfHall - impressive!

— Orlaith Wood (@ohhmrdarcy) January 21, 2015
The lighting in #WolfHall is absolutely gorgeous, most impressive bit so far tbh

— Kerry (@kerrypolka) January 21, 2015
Great lighting. Takes a good period drama to make you feel the luxury of being able to see faces clearly whenever you want #WolfHall

— Sophie Coulombeau (@SMCoulombeau) January 21, 2015
Claire Foy, who plays Anne Boleyn, admitted bumping into props in the "incredible but bonkers" darkness, while Mantel added that candlelight "does something amazing to your imagination".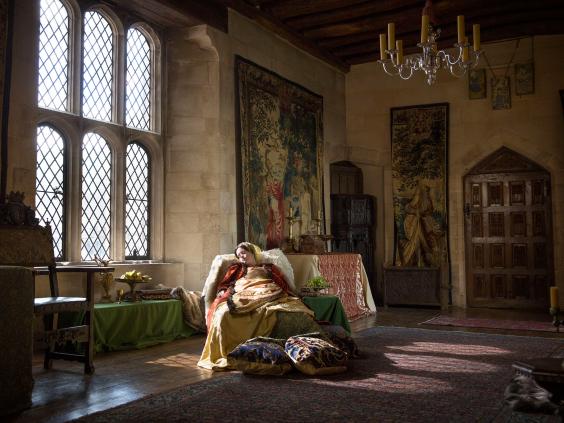 Other than the gloomy visuals, some viewers also commented on "shaky" filming, an overly-loud soundtrack and the absence of Lewis' Henry VIII until the very end.
Despite some criticism, Wolf Hall was primarily applauded, winning five stars from numerous TV critics and attracting much praise from the audience.
#WolfHall was stunning ; lighting, pace, acting, design & direction. Peter Kosminsky looks & finds the soul of the story. Heartening.

— Colin Salmon (@colinsalmon24) January 22, 2015
Mark Rylance is Baftatastic #WolfHall so is the lighting director

— Philippa_Perry (@Philippa_Perry) January 21, 2015
Some viewers complained that the plot was "slow", but Mantel herself has defended it. "It is complex, there's no point in dumbing down the story," she said. "Why do it if you have to reduce it to clichés and over-simplifications?"
The first episode of six drew 3.89 million on Wednesday night to become BBC2's highest original drama series launch in a decade.