The first thing you notice about the Yonderland cast is just how much of a gang they are. Conversations are consistently derailed by funny asides and surreal suggestions, by in-jokes and the sort of shorthand you can't help but end up with when you've worked together for more than five years. They are, as Laurence Rickard puts it, a group with "the humour of a bunch of six-year-olds".
So much time spent together has created a clear dynamic with Rickard and Mat Baynton giving long, thoughtful answers, Ben Willbond and Martha Howe-Douglas chipping in with quieter asides and a jet-lagged Simon Farnaby ensuring the conversation constantly threatens to dissolve into hysterical laughter. The sixth member, Jim Howick, is busy filming for Channel 4.
"We make what we think is funny," says Baynton, explaining the appeal of Yonderland, their acclaimed and deeply silly hit comedy that returns to Sky One tonight. "In many ways Yonderland doesn't sound like a mainstream comedy because it's absolutely bonkers but we felt the appeal was there – if it was funny and there was a spark of enjoyment to it."
The best TV to watch in 2015
The best TV to watch in 2015
1/13 Game of Thrones

Sky Atlantic, April

HBO

2/13 Poldark

BBC 1, March

BBC

3/13 Fortitude

A murder mystery set in a close-knit Arctic Circle community, with an impressive ensemble cast -Sky Atlantic, January

Sky Atlantic

4/13 Banished

BBC 2, March

BBC

5/13 Ordinary Lise

BBC 1, March

BBC

6/13 Life in Squares

Phoebe Fox, James Norton and Lydia Lynch in 'Life in Squares'

BBC

7/13 Wolf Hall

BBC2, January

BBC

8/13 Better Call Saul

Netflix, February

Netflix

9/13 Mel & Sue chat show

ITV, January

Princess Productions

10/13 Mad Men, Series 7, Part II

Sky Atlantic, Spring

©Lionsgate

11/13 Dementiaville

This series of documentaries explores both the heart-breaking experiences of those with dementia and a ground-breaking new approach to their care - Channel 4, Summer

Georgie Scott/Age UK 2013

12/13 Morning Has Broken

More than a decade since Nighty Night established Julia Davis's reputation for caustic character comedy, she's back with a new creation on Channel 4

BBC

13/13 Cucumber/Banana

Sixteen years after Queer as Folk, Russell T Davies returns with two interlinked series about gay life in Manchester on Channel 4

c.Showtime/Everett/REX
So great was Yonderland's appeal that this show, about a bored Brummie housewife who finds a portal to another world in her kitchen, has been hailed as reviving family entertainment. Not that the gang are convinced by the label.
"I do find it frustrating that people bother to put the word 'family' in front of it because it's just a comedy," says Baynton. "At some point, and I don't know when it happened, maybe the 1990s, which are to blame for many things, it became like, if something is just a comedy then it's adult and sweary and edgy. But if you're not that then you're a kids' comedy or a family comedy."
Rickard interrupts. "I get it, because we did Horrible Histories and then we did a show that was on at 6pm at night and had puppets in it and was very colourful and bright… What was nice was that once people started watching it, they saw that it was just a comedy."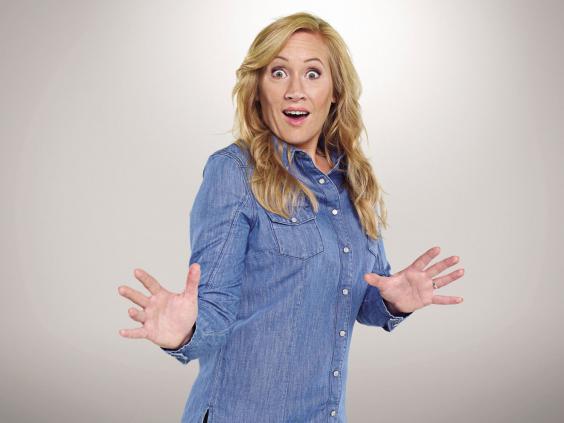 Having got their start on hit children's sketch show Horrible Histories, introducing a generation of schoolchildren to amusingly gross facts about Stuart toilet habits and witty songs about famous figures, they were unsure how the new show would be received. "It was a terrifying thing to do," says Rickard. "With Horrible Histories it was educational, and because it was from a kids channel there was a lot of goodwill towards it because it was quite Reithian and all of that, but Yonderland was us saying: 'This is just a straight sitcom. There's no value beyond jokes and idiocy.'" As Baynton says: "You don't learn anything."
On the surface, the split from Horrible Histories, which came when the BBC announced the show would end after series five, was amicable. Then came the surprising announcement that there would be a sixth season, with a new format and cast. It's currently airing on CBBC and features appearances from both Howick and Farnaby. "So, Simon, tell us about that…" says Rickard when the subject comes up. Farnaby laughs. "Jim and I just sort of buckled," he says. "We all said, 'we'll not do it', and then one of the producers I know said, 'come on, do it', so I said, 'oh alright'. It is what it is."
"The decision as a group [not to come back] was relatively easy," adds Rickard. "People had put a lot of faith and money into giving us what were in effect graduation projects and I think if we'd just turned round and said, 'see you later we're going back to school', it would have put us and them in a very difficult position. It's a show that we all have tremendous affection for but the decision had been made. We felt, as a group, we'd moved on to other things."
Those things include Bill, their much-anticipated comedy about Shakespeare, which was originally set to open in April but has since been pushed back to late August. The trailer, with its dancing guards, plotting Spaniards and silly sight-gags overwhelmingly recalls Monty Python at its anarchic best. It's a comparison they're not afraid of. "We're absolutely OK with Monty Python comparisons," says Willbond. "We're big fans of those films. They were in the back of our mind."
"Yeah, we don't mind being compared to Monty Python," laughs Farnaby.
"If I were them I'd be really pissed off,"  adds Rickard.
Baynton interjects. "They're heroes to us."
Similarly, he hopes they will remain heroes to the generation raised on Horrible Histories. "The kids who were 12 when Horrible Histories started are now 18 or 19 so if they found us funny then they'll probably still find us funny. People don't say, 'it's my 15th birthday I will now not find those people funny'.
Yonderland and Bill feel like we're growing up and the audience are growing up with us. We can take the brakes off a bit – and get away with a little more."
'Yonderland' is on Sky One on 13 July at 8pm
Reuse content