Until recently, Mushdaq Hussain flew a giant St George's flag from his terraced house. He wasn't only supporting England in the World Cup; he was making a "positive" statement about his adopted country, a country his father fought for more than half a century ago.
So when the makers of a new documentary series with the working title "Immigration Street", which is following the community of Derby Road in Southampton, knocked on his door for his views on his multicultural neighbourhood, they were surprised to be given short shrift.
"Producers from 'Immigrant Street' have been knocking on my door, trying to get me to appear, but I'm not interested," said the 46-year-old, speaking outside his home yesterday. "They obviously thought I'd have negative things to say [because of the flag], but the only story here on Derby Road [about immigration] is a positive [one]. I'm not sure they were interested in that." His views seem to be typical on the street, where residents of all faiths and ethnicities talk of "pressure" to appear on camera and their fears that the Channel 4 show could bring extremists to the area.
To be broadcast just before the next general election, the series is the follow-up to the highly controversial Benefits Street, which led to 900 Ofcom complaints and questions in the Houses of Parliament earlier this year over allegations that it vilified those on the breadline.
Derby Road is admittedly a little shabby and locals talk about the lack of jobs, but the city's Newtown area, once known by sailors the world over as a place of drugs and prostitution, has improved drastically in the past 20 years or so.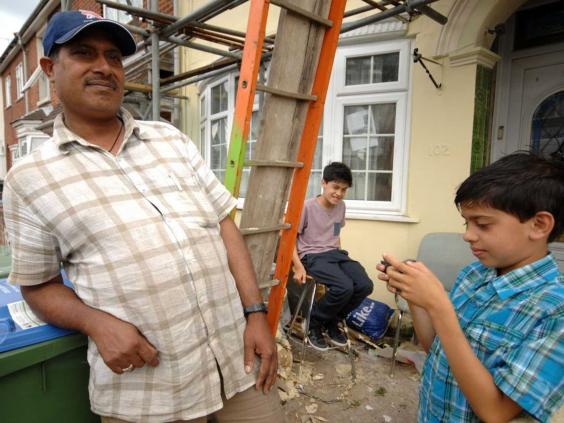 Mr Hussain, like 40,000 other residents of Southampton, was born abroad – in his case, in Pakistani Kashmir. The latest census figures show that 10 cities the size of his adopted home have been added to the UK population by immigration over the past decade.
However, on Derby Road local activists are quick to point out that Mr Hussain is welcome and that the "majority" of its residents are second- and third-generation immigrants who were born in the area. That hasn't stopped Channel 4 claiming that the road is "an ethnically diverse street where the majority of residents were not born in the UK".
"It's certainly ethnically diverse, and that's a thing to celebrate," said local Labour councillor Satvir Kaur, 29, who grew up on the road after her family moved to England a generation ago. "I've lived here for nearly 30 years. The claim that most people who live here weren't born in the UK is very, very questionable indeed."
She added: "What I find really disappointing is that the programme makers seem to have assumed that if you don't look, eat, dress or sound like a traditional, white English person, then you weren't born here .… Most people on this road are as British as David Cameron."
Derby road
Derby road
1/8 Derby Road

Derby Road in Southampton

Russell Sach

2/8 Derby Road

Residents and councillors - Malkeat Singh (blue t-shirt, left), Patricia O'dell (rear), Satvir Kaur (cabinet member for communities on the city council), David Roth (local activist), Ali Begg (blue t-shirt, rear), councillor Jacqui Rayment ( red top) and Mushdaq Hussain (local resident)

Russell Sach

3/8 Derby Road

Derby road business owner Amin Osman

Russell Sach

4/8 Derby Road

Derby Road resident Malkeat Singh

Russell Sach

5/8 Derby Road

Resident Mushdaq Hussein with sons Faraz (pink top) and Azatar

Russell Sach

6/8 Derby Road

A couple walk past the local cafe

Russell Sach

7/8 Derby Road

A girl cycles down the road

Russell Sach

8/8 Derby Road

Mother and daughter on the road

Russell Sach
Local Labour MP Alan Whitehead agreed: "If you are going to label a place 'Immigrant Street', you need to be sure you know what you are talking about – the vast majority of people living on Derby Road may not be white, but they are British and have been here for generations."
Perhaps because of this, the local primary school and many faith groups have refused to work with Love Productions, which is making the show for Channel 4. Nonetheless, residents of Derby Road are still worried, said the ward's councillor Jacqui Rayment. Her concern, she told me as incense wafted across the potholed road, is that Love Productions has been seen "cherry-picking vulnerable people" to appear on the show.
Towards the city-centre end of the half-mile-long road, Amina Osman was opening her dress shop for the day. The 46-year-old Somali immigrant recalled how she was filmed without her consent recently and pressured to sign a document granting permission for the footage to be used. Only the intervention of her teenage son led the film crew to depart.
She said, "They said they wanted to paint the road in a positive light, but they kept asking questions. Of course, there are some problems here, but it's a wonderful multicultural place that will welcome anyone."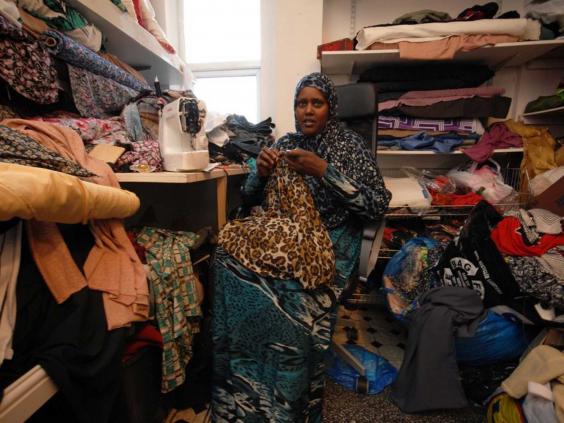 Across the street and three doors down from Mr Hussain, a young British-Asian woman, who declined to be named, had had a similar experience. She told me, "I work in marketing, so could see the angle they were after a mile off. I sent them away pretty quick, but they then seemed to be interviewing people who don't speak English or were drinking early in the morning."
Kieran Smith, the show's executive producer, said: "We selected the street based on census data .… We have [knocked on every door] and will continue to do so as residents come and go. All our researchers identify themselves as journalists. This is the same old tired argument we heard when we made Benefits Street, but, of 900 Ofcom complaints, none was upheld."
Derby Road itself feels similar to many inner-city areas; scruffy and plagued by litter, but with vegetable stalls and corner shops. Crime is low and the local school has a "good" Ofsted rating.
As the call to prayer rang out from the nearby Medina Mosque, Patricia O'Dell from the local residents' association told me that most people's concerns were over "parking, fly-tipping and litter" rather than immigration. She said, "You are far more likely to see locals helping new arrivals understand the way of life here than complaining about them."
Malkeat Singh, 55 , a local resident who is active within the Sikh commun ty, joined us to point out the area's five mosques and four Sikh gurdwaras, as well as an Afro-Caribbean centre, churches and synagogue.
"We can't be afraid of talking about immigration," he said. "But we don't need this kind of sensationalism or racist undertones in the debate. This is a successful, multicultural community. It doesn't deserve this."
Reuse content