You know what you're getting with a Jimmy McGovern drama. Or you usually do. The first episode of new seven-part series Banished featured no campaigning dialogue, no searing takes on contemporary social issues and no tense courtroom scenes. Instead, it was an oddly soppy period piece about a love triangle, which just happened to take place in an 18th-century Australian convict colony.
The not-so-happy couple are MyAnna Buring (Ripper Street, Downton Abbey) as Elizabeth, a convict woman whose passionate nature is signalled by her waist-length curly red hair and Julian Rhind-Tutt (Green Wing, A Touch of Cloth) as Tommy, a convict man willing to stand on principle – however pointless that "principle" may be.
How did these two hearts entwine? Hard to say, because the story opened with them already sharing a bed and Elizabeth hurrying (and failing) to escape his quarters before the soldiers showed up and discovered their forbidden romance. Meanwhile, third wheel James Freeman (Russell Tovey) had made the mistake of standing up to Marston, the camp bully (Rory McCann, better known as "The Hound" from Game of Thrones).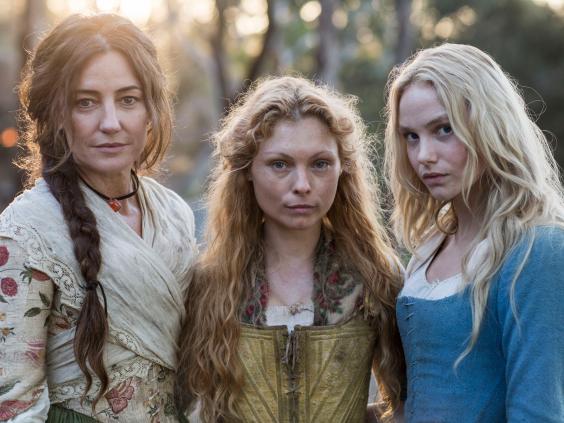 Marston responded by stealing James's food ration, pushing him to the brink of starvation, while guards turned a blind eye. At least James's hunger pangs briefly distracted him from his own unrequited love for Elizabeth.
Banished's dialogue is adorned with ye olde words like "godforsaken" and the characters wear tattered breeches, but it lacks the kind of texture that great period dramas, such as Wolf Hall, use to transport viewers to another time. Worse, the convicts situation seems contrived more for the purpose of presenting the Governor (David Wenham) and reverend (Ewen Bremner) with a juicy moral dilemma, than because this is the way people might have actually behaved back then.
Classic McGovern dramas like The Accused or last year's Common may not be to everyone's taste, but at least they usually have a point to make. If there is any point here it must have been lost at sea en route from England, along with the rest of the colony's provisions.
Reuse content