Of all the noises reverberating around Belfast this weekend – the popping exhausts, the fireworks, the echoing sounds of AC/DC, the revving Ferraris and the wolf whistles they elicit from 5,500 fans – one rises  above the car-cophony on Friday night: the voice of a man whose last words of note may have concerned a meat platter of questionable temperature, but who would not be silenced.
"I'M HERE!" Jeremy Clarkson roars over the din of his hovercraft as he sweeps into the Odyssey Arena to the tune of Survivor's boxing anthem, "Eye of the Tiger". It signals the unlikely revival of a live show that revolves around three men with stonewashed jeans and a combined age of 152, yet will now fill arenas, from Sydney to Johannesburg, that are usually reserved for rock gods and pop giants.
While the future of Top Gear remains in doubt on television, this is the only place for fans to get a fix of diesel-scented entertainment. Yet there are two words that will be neither seen nor heard during the tour: "Top" and "Gear". After the unavailability of a hot dinner caused a "fracas" in March – and the public meltdown of a BBC institution – Top Gear Live has undergone emergency rebranding. It now sounds like a skiffle act made up of solicitors: Clarkson, Hammond and May Live.
"I think we would have torched the BBC if they'd cancelled the show as well," says Andrew Hyde, 63, while he waits in a long queue for the Odyssey's doors to open. "And this is Northern Ireland," adds his brother, William Hyde, 58, channelling his hero's fondness for un-PC gags. "We do things like that."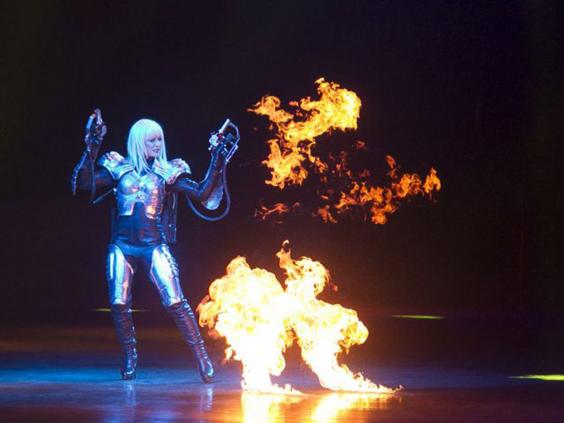 The men had bought tickets as Christmas presents for their respective sons, Sam and Alan. But any fear among the four that Clarkson might tone down his shtick are quickly allayed. In an early segment, he and his gang race cars made from bits of kitchens. Hammond lies on an articulated ironing board that, we learn, may or may not pose a risk to his penis (Clarkson suggests it is probably too small to be a concern). May drives a car made of washing machines, while Jeremy sits on a thrusting dragster of fridges and food blenders.
"Professor Stephen Hawking would have been proud to have made this," he shouts. "But then Stephen Hawking would struggle to make a balloon animal." A few gasps break out amid the laughter in the crowd. "I don't work for the BBC any more," Clarkson responds. "I can say what I want!" Everyone cheers.
Gary Edgar and his son, Jack, from Ballymoney, wear matching BMW jackets. (There are more father-and-son pairings here than perhaps at any football match – and fewer women.) "Jack said that if Clarkson wasn't going to be here, he didn't want to come," Edgar says. What is it about the 55-year-old Chipping Norton millionaire that appeals to a 14-year-old lad from Northern Ireland? "I don't know, it's just his humour is very good," Jack says. "He's really funny."
Things you never knew about Top Gear
Things you never knew about Top Gear
1/14 Top Gear isn't really for adults

It's 'aimed at people with a mental age of nine', according to executive producer Andy Wilman.

BBC

2/14 Planet Earth loves it...

Top Gear is screened in more than 100 countries worldwide and has millions of fans.

BBC

3/14 ...but not all motoring hacks do

You might think Jezza was a hero of the motoring hack world but that's not strictly accurate. Telegraph journalist Neil Lyndon summed Top Gear's 21st birthday last year up well: 'Does that mean Billy Bunter and his gang finally get forced out of the Fourth Remove and into long trousers?'

BBC

4/14 The Top Gear theme tune is a classic rock song

Seven-minute instrumental 'Jessica' by The Allman Brothers was a hit in 1973. Top Gear has recorded its own version now but used part of the original recording at first. One for the road trip playlist.

5/14 Jeremy Clarkson couldn't get much more controversial if he tried

The presenter is currently suspended from the BBC following a 'fracas' with a producer over a steak dinner. Past scandals include a string of racism allegations.

PA

6/14 This Porsche caused all sorts of trouble in Argentina

The Top Gear team were forced to flee Argentina after locals took offence at the car's number plate - believing it was a deliberately provocative reference to the Falklands War of 1982.

AP

7/14 If it's car-buying advice you want, look elsewhere

It's an in-joke in Top Gear that they don't do car tests. You would be mad to make a purchases based on Jezza's verdict.

Getty Images

8/14 Richard Hammond had a near-death experience filming Top Gear

The 'Hamster' was filming a Top Gear segment in a dragster called Vampire when its front-right tyre burst at 288mph. Hammond spent two weeks in a coma but luckily went on to make a full recovery. He requested that no mention of the crash was made in future Top Gear episodes.

Getty

9/14 Jeremy Clarkson is more than a little bit taller than Richard Hammond

Nine inches, to be precise.

Rex

10/14 Top Gear used to offer real advice

Before these lads took over, it was a real car-reviewing show with presenters such as Angela Rippon, who gave practical reviews of down-to-earth workhorses such as Cavaliers or Mini Metros.

Getty Images

11/14 Those 'reasonably priced' cars take quite a battering

Denis Chick, of Vauxhall, is brave to have lent the show a fleet of his Astras. He said: "Vauxhall Astra sales would not improve if everyone drove like Jimmy Carr around the Dunsfold track." The comedian hilariously took his test car's front off-side tyre clean off its rim.

BBC

12/14 Jeremy Clarkson is a YouTube star

Stray down the motoring internet hole and you'll find lovingly posted videos of 'Clarkson the early years' with incredibly loud hair reviewing 1990s cars in an oddly sensible manner. Very disturbing viewing.

Getty Images

13/14 There have been multiple Stigs

Racing driver Perry McCarthy was stuntsman The Stig on the first two series of Top Gear - here's the man under that famous helmet.

Rex Features

14/14 Ben Collins was The Stig for eight years

Ben Collins was The Stig on Top Gear for eight years. He left amid a clash with the BBC when he unmasked his identity and published an autobiography. Collins thinks Top Gear has 'lost some of its sparkle'.

Rex Features
"Clarkson's a petrolhead," his father adds. "He goes out in cars that we will never be able to afford and drives them to within an inch of their life. Jack loves that – the more tyre smoke the better."
Young Jack is not disappointed. Smoke regularly fills the arena, not least when a platinum blonde in a leather leotard with chrome breastplates fires flame-throwers at two black Porsches as they circle her. The cars, now fully ablaze, continue to zoom around her, leaving Back to the Future-style flames in their tracks.
"Now sit back and enjoy some automotive pornography," Hammond says later. A dozen supercars roll on to the floor as slowly as they can, like drugged catwalk models. The lights dim, the music quietens, and people whistle at their favourite vehicles. The presenters then have a laboured debate about which car they would most like to take home.
"Tragically, I have one of these on order," May says, drooling over a Ferrari 458 Speciale (£210,000 plus £6,000, the cost of a Dacia Sandero hatchback, for a stripe down the middle). "Mate, you're going to need to get a job," Clarkson tells him.
Unemployment innuendo peppers the show, along with nods to Clarkson's earlier scrapes. Before a drifting competition, to see who can do the best  skids, Hammond ask Clarkson: "Did you remember to check the numberplate on your car?" A camera throws it on to the big screen: M394 VAJ. "You know I don't do that," Clarkson replies. "But it does describe the driver," offers Hammond, who is 45.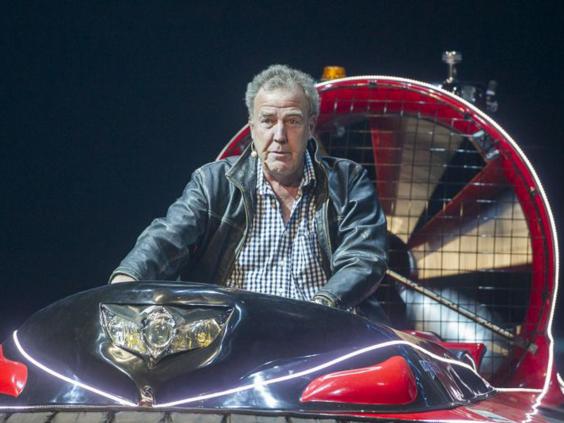 The crowd loves this stuff. There is a reason for Top Gear's huge success and its refusal to die. One young couple, students from Belfast, had bought tickets after the "fracas", drawn as they were to the controversy. "They say things they shouldn't and don't always get away with it," Ross Patton, 20, says. "But when they do it's worth it – everything is too PC these days."
After a game of football played in Suzuki Swifts, Clarkson ends the show. "I think I'm right in saying we certainly enjoyed being back together again," he says before apologising for the absence of a stunt cyclist who was injured in rehearsals (a press officer makes it clear that neither Clarkson nor any food played any part in the accident).
As the crowd leaves, buzzing, "Thunderstruck" by AC/DC bellows out, and Clarkson, Hammond and May exit into the wings.
Reuse content