January's meagre rations can come as a relief after a fortnight of eating advent calendar chocolate for breakfast, and similarly we'll be glad to get back to the normal TV scheduling after all the saccharine telly treats of New Year. Roald Dahl's Esio Trot (BBC1) was an adaptation of his tortoise tale that never quite emerged from its shell.
Dustin Hoffman starred as Mr Hoppy, a lonely old man, in love with his downstairs neighbour Mrs Silver (Judi Dench), but too shy to tell her how he feels. Their regular chats over the balcony were limited to small talk until one day Mrs Silver expressed the wish that her pet tortoise, Alfie, might grow and Mr Hoppy came up with an elaborate scheme to make her wish come true.
When we think of Roald Dahl's genius, we think of Charlie and the Chocolate Factory, Matilda, The Witches and  Fantastic Mr. Fox, all of which have been successfully adapted into popular, critically acclaimed screen versions. Esio Trot has not, and with good reason. First published in 1990, the year of Dahl's death, it is one of his lesser-read, lesser-celebrated books and the plot centres not on the children whose anarchic cruelty Dahl understood so well, but on two meek, non-magical adults.
Still, Roald Dahl for grown-ups is an intriguing prospect. Could a writer already known for his sharply unsentimental humour get any sharper? With a script adapted by Richard Love Actually Curtis, the disappointing answer is, no. In fact, this late-in-life love story, with its Louis Armstrong soundtrack and soppy narration from an on-screen James Corden was so gloopily feelgood it was hardly recognisable as Dahl at all.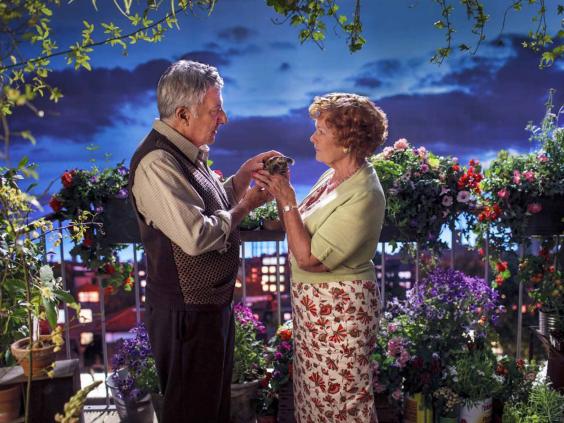 At 90 minutes it was obviously over-long. Would a shorter running time have insulted that redoubtable cast? If so, the presence of heavyweights Hoffman and Dench only served to highlight how slight the story was. Dench radiated joie de vivre in her collection of flowery frocks, but it seemed unlikely that this grande dame – Bond's "M" no less – would be dim enough to fall for Hoppy's ruse? And, for that matter, why would a man with Hoffman's charisma resort to such tactics? Lucky, then, that on New Year's Day most viewers were probably still too mushy-headed to notice.
Or perhaps too distraught about having to wave goodbye to Miranda after three series and two TV specials. Her last episode aired after Esio Trot, but if the fate of another former BBC1 sitcom Birds of a Feather is anything to go by, fans of jolly-posh-girl slapstick can cease their chin-wobbling and buck up their ideas. Miranda will probably be picked up by ITV and resurrected before too long.
The original Chigwell adventures of Sharon, Tracey and Dorien aired from  1989 to 1998, when the Essex girl was  still a stereotype with cultural cachet.  They first returned to our screens after a 15-year absence in January 2014, to much derision, but this second rebooted series (11th series in total) is proof of their unexpected staying power.
As with Miranda, it's an appeal which can transcend a thousand terrible puns and there were at least a hundred in last night's episode where Sharon (Quirke) discovered her genius level IQ. Linda Robson, Pauline Quirke and Lesley Joseph just have chemistry, with each other and with the viewers. We tune in not so much for the witty wordplay (there's none of that), or the zeitgeist-y insights (those dried up in 1992), but to spend half an hour in the company of some old friends.
Reuse content