Baz Ashmawy isn't the only TV presenter bravely reinventing macho norms. Actor, director and TV presenter, Richard Ayoade is a man of many guises, all of them nerdy.
As an actor he's best known for playing Moss in The I.T. Crowd, as director he's recently released a screen adaption of a Dostoyevsky novella and as presenter he's guided us through two very entertaining series of Gadget Man, with a third beginning on Channel 4 last night: "We have gadgets and some might even call  me a man. It's Gadget Man!"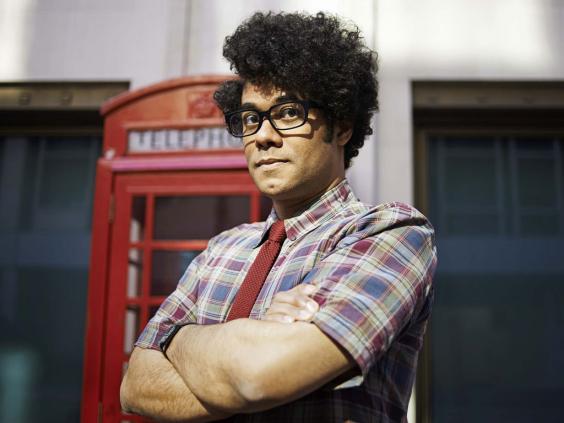 After the bank holiday we've had, last night's weather theme couldn't have been more apposite. "British weather is well known for its well rubbishness," said Ayoade, "and it's getting well rubbisher by the day."
Coming to our aid were nifty consumer products including a waterproof shirt, a fully waterproof phone and a practical, yet romantic, umbrella, especially made for two to share.
Who will Ayoade be inviting under his umbrella? A different pair of comedian guests each week. This week Marcus Brigstocke sneered at a snowboard propulsion device and Tim Vine discovered that even his award-winning puns couldn't withstand wind speeds of 53mph. Luckily, his ergonomic hood could.
Even without the puns, Gadget Man is a reliably entertaining show, by which I mean you don't need to care two nanowatts about microprocessor capacity or infrared connectivity and you'll still enjoy it thoroughly.