You will have noticed Sky Atlantic's new Arctic murder mystery, Fortitude. I say this confidently, because when Sky TV chose to spend more than £25m of our monthly subscription fee on Sofie Grabol, animatronic polar bears, kitting out a cast of hundreds head to foot in Canada goose and situating them in a recreated Swedish Arctic research centre (in Iceland), well, the channel was bound to factor in a serious promotional budget.
This isn't a swipe at Sky: I love their grandiose attitude to acquiring and marketing television. We give them our pennies, they spend them on making big, risky, exquisitely hewn television, then they throw decadent parties and pull pricey publicity stunts to raise public awareness of it. That's the deal. Nobody quibbles. When Sky Atlantic took a life-sized, 8ft, fully animated polar bear on to London Underground's Circle Line last Tuesday to promote Fortitude, I guess that not one Sky subscriber cancelled their subscription in a massive tantrum.
Meanwhile, at the BBC – where staff are reportedly stealing office toilet paper – they're hauled over the coals over the licence fee if a box of Sainsbury's vin de table is cracked open at the 2015 Drama launch. If the BBC had made Fortitude it would have been shot in Whinfell Forest Center Parc. Polar bear-savaging scenes would have been downgraded to a run-in with a fractious squirrel.
Whether all Sky's pomp – the billboards, the bus adverts, the phone-interview opportunities with Christopher Eccleston – mean that Fortitude is brilliant is still questionable. Having only watched the opening, feature-length episode – a hotchpotch of plotlines including adulterous lust, corporate bids, fossil discovery, frostbite, a shady sheriff, a murdered professor – it's hard to know if Fortitude is heading anywhere aside from up its own, icily cold, bum. Excellence will emerge if all this multi-layered Arctic weirdness converges into something coherent.
In the opening episode – spoilers follow – a child is struck down with a mysterious malady, which may be a rare Middle Eastern form of polio. He's miraculously cured the moment he sleepwalks from his bedroom window. Christopher Eccleston (playing Professor Charlie Stoddart) is offered a rare fossil by a mysterious miner, only to be savagely murdered by a polar bear. Except it probably wasn't a bear. Bears seem to be a convenient excuse for everything in Fortitude. When married search-and-rescue pilot Frank Sutter is discovered shagging the hotel receptionist, Elena, he'll no doubt say that a polar bear told him to do it. Despite the sub-zero temperatures, characters will throw off their clothes and have sex outdoors, icy winds blasting their frontal portions. Yes, Frank's son may have needed his feet amputated for exposing them to the ice, but Frank's penis was unscathed by exposure to similarly freezing conditions. This is the sort of Fortitude research that viewers could get engrossed in, not boring old fossils.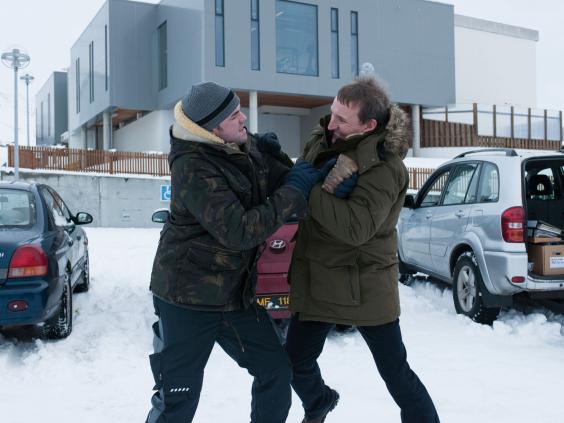 Overlooking Fortitude's daily affairs is Governor Hildur Odegard (Grabol), a woman very keen to dig a sort of Arctic version of the Neighbours Lassiters complex into the side of a glacier. Casting wise, shoving Grabol centre-stage into a made-to-order British version of a Scandinavian drama is a little bit heavy-handed. Yes, we get the message. This is serious telly, like something foreign and ultimately dull that BBC4 might take a punt on, and that we'll all need to pretend we watched. Lord God, I'm already exhausted pretending to like Spiral.
Regardless, I felt heartily for Grabol in the opening episode, attempting to bring drama to hotel-planning paperwork. It is completely unfeasible that a woman smitten with the tranquillity and unspoiled nature of Fortitude would aim to make it a destination for mini-break tossers from London braying loudly at the northern lights and stubbing out Marlboro Lights on Arctic foxes.
By the time Stanley Tucci arrived, playing a former CIA air-crash specialist, now working for the London Metropolitan Police and dispatched to Sweden to assist with the murder investigation, I wasn't entirely sure if this wasn't a tremendous in-joke on Sky Atlantic's part over the calibre of actor they can afford. When Tucci explained how London had sent an American to meddle in Swedish police affairs, he should have winked to camera. It reminded me of that brilliant scene in Austin Powers: The Spy Who Shagged Me when Basil Exposition informs Powers of some plot-line gobbledegook with the advice, "I suggest you don't worry about those things and just enjoy yourself."
Still the microcosm of Fortitude is – as it stands – highly compelling. It's cinematically sublime, set in a perpetually twilit landscape filled with pretty people clad in extreme outdoor-wear, who are generally up to no good. If we carry on as mysteriously as this for another 10 episodes we will be trapped on a carousel of daftness similar to Lost, The Returned or HBO's The Leftovers. Fortitude might well be Broadchurch with polar bears, but it's pretty cold here in the UK right now, too. This will certainly help with hibernation.
Reuse content