At some silly level, many of us dream of owning our own little shop or cafe. Or maybe a shop with a cafe attached, because when people popped by your shop – which would be bloody amazing – they would definitely want to hang out with an organic, skimmed, frappé latte. Less of a shop, more of a lifestyle venture, and so much more fun than a real job. It's this level of folly that keeps Mary Portas, queen of the retail revamp, in business.
Running a shop, as Mary Portas: Secret Shopper denotes, is heartbreakingly hard. So many balls to keep in the air, such as, "not poisoning anyone with a past-its-sell-by-date prawn cocktail". Or "stopping the staff shouting swear-words behind the check-outs while fiddling with their balls". Mary's excursion this week, to Hallmark Foods near Slough, delivered a grim cornucopia of retail wrongness.
That antique, four-day-old prawn cocktail will clutter my mind's eye for some time. Thankfully Portas whisked into Hallmark – gorgeously haughty, beautifully kempt – and shut the whole shop down. All foods that were unacceptably mildewed, mildly poisonous, or of potential use to the Victoria and Albert Museum as artefacts, were banished. Dean, store manager, fiddled with his balls nervously. Portas dealt with the ball-fiddling issue too. "I don't do it in front of the customers," said Dean, "I do it when I'm walking away."
The best TV to watch in 2015
The best TV to watch in 2015
1/13 Game of Thrones

Sky Atlantic, April

HBO

2/13 Poldark

BBC 1, March

BBC

3/13 Fortitude

A murder mystery set in a close-knit Arctic Circle community, with an impressive ensemble cast -Sky Atlantic, January

Sky Atlantic

4/13 Banished

BBC 2, March

BBC

5/13 Ordinary Lise

BBC 1, March

BBC

6/13 Life in Squares

Phoebe Fox, James Norton and Lydia Lynch in 'Life in Squares'

BBC

7/13 Wolf Hall

BBC2, January

BBC

8/13 Better Call Saul

Netflix, February

Netflix

9/13 Mel & Sue chat show

ITV, January

Princess Productions

10/13 Mad Men, Series 7, Part II

Sky Atlantic, Spring

©Lionsgate

11/13 Dementiaville

This series of documentaries explores both the heart-breaking experiences of those with dementia and a ground-breaking new approach to their care - Channel 4, Summer

Georgie Scott/Age UK 2013

12/13 Morning Has Broken

More than a decade since Nighty Night established Julia Davis's reputation for caustic character comedy, she's back with a new creation on Channel 4

BBC

13/13 Cucumber/Banana

Sixteen years after Queer as Folk, Russell T Davies returns with two interlinked series about gay life in Manchester on Channel 4

c.Showtime/Everett/REX
Shows such as Secret Shopper and Alex Polizzi: The Fixer are a wonderful look at the human ability for denial, self-sabotage and ostrich-level head-burying. Polizzi's visit last month to Big Space, a failing children's soft-play area near Harpenden, was remarkable. Nobody, it seemed, wanted to bring their kids to Big Space, which mystified management. Polizzi plodded around the grubby climbing frames, through bales of hair, dust and child-related detritus. Had Big Space thought about cleaning? Owner Lester couldn't address this issue as he had to attend to making batches of special handmade cookies for his cafe that no one ate in.
Polizzi and Portas both show considerable tenacity for not melting down, before using their high heels as weapons to bang some common sense in. Time and again Polizzi and Portas explain that, when customers are irked, they don't kick off, they simply don't come back. So that's why your store is a ghost town. You've p*ssed off everyone within 15 miles, buddy, and now it's time for redemption.
Repeatedly shop managers are advised to, then refuse to, go and snoop on rival companies. "No I will not go to Tesco Metro, 300 metres away, and find out why they're our biggest rivals!" shouts the average, petulant store owner, while counting his profits in coppers.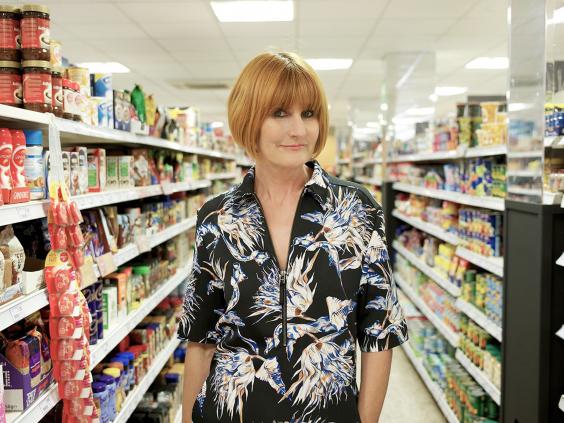 There's almost always a scene in every retail revamp show where very slick, exciting, modern plans are commissioned by a fancy London agency to drag the company into the future. "It'll never work," the shop owner will stubbornly fume. "Why would anyone want in-store wi-fi? Or to follow us on social  media? Or a loyalty card? Or a pretty, inviting window full of fresh cakes? I don't like these plans! Let me have my shop full of dust and unopened VAT bills." At this point a lesser being – me for instance – would say, "Oh shove it then, enjoy your bankruptcy, I'm on the next Virgin Pendolino back to London." Instead we watch kind words and gentle compromise.
What I love most about these retail revamp stories are the humans who free themselves from slavish modes of thinking. We are, it seems, our own greatest enemies.
There was a raw, moving moment this week when Dean from Hallmark Foods admitted quietly to Portas that he couldn't write. Years of fear, shame and, as Portas said, "winging it" had led to this teary outburst. OK, Dean, I'll admit this, you made me cry, too. One minute you were a bullish "banter king" shrugging your shoulders at the out-of-date cheese. The next, I could only praise the raffish bravado that had bailed you out over the years.
"I didn't go to school," Dean mumbled, sheepish, panicked. "Why not?" said Mary. "Just didn't," he said. Mary drew right up to Dean at eye level and said, "Look, I'm going to be here for you." Fifteen years of the pain of faking it seemed to lift from his face and body.
Portas enrolled Dean on an adult learning course and by the end of the hour he was writing his own signs for "Today's Coffee Deals" in the spanking new food boutique that Mary had helped design. They had an app and a delivery bike and organic ready-meals. Dean was crying, Mary was crying and I was crying, which is rather ridiculous if you think about it. Secret Shopper is only a show about retail. Except every week we see that behind every shopfront is a little dysfunctional family that needs counselling, stiff home truths and cuddles.
We all need a cuddle sometimes. And if it's from Mary Portas, you really have earned it.
Reuse content