There's a lovely moment in Scrooged, Richard Donner's 1988 updating of A Christmas Carol starring Bill Murray as a hard-hearted yuppie, when The Ghost of Christmas Past takes him back to see his mother. 'You're taking me back in time to show me my mother and father, and I'm supposed to get all goosey and blubbery. Well, forget it, pal.' That's what Attila the Hun said too, explains the ghost. 'But when he saw his mother… Niagara Falls.'
There's a lovely moment in Grayson Perry's Dream House, as Britain's favourite transvestite potter attempted to create an 'Essex Taj Mahal', when a group of Essex women get him to talk about his mother – the true inspiration for his 'shrine'. 'They're going to start talking about mothers and he will say something moving and I'm supposed to get all goosey and blubbery. Well, forget, it, Grayson' I thought. 'I've been rewriting my mother's life,' explains Grayson. 'How I wish it could have been for her.' Ah. Excuse me, there's something in my eye…
Grayson Perry's Dream House was a very lovely thing. From the Turner Prize-winning artist tottering about Essex in his orange clogs, winning over conservative villages with grace and humour, to the effect that Perry's creation had upon the 'ordinary Essex women' it was inspired by, it was all completely charming. The end result, a fairy tale church that looked like it should have been in Red Square rather than the Stour estuary, was stunning enough in itself, however it was the effect that the project had on the people around it that was most impressive.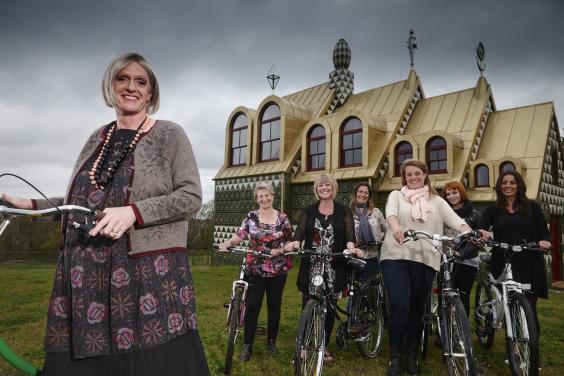 Perry's vision was to create a temple to 'Julie Cope', a fictional Essex everywoman who had died after being hit by a pizza delivery scooter in 2014. One can take a pilgrimage from Julie's 'birthplace' in Canvey Island, via her homes in Basildon, South Woodham Ferrers and Colchester ('not names being listed by UNESCO' observed Perry), all the way to the extraordinary building created in her honour in the village of Wrabness.
Perry took a small band of real life Essex 'Julies' (which made remembering their names much easier) on the journey. From a relatively sceptical start ('do you reckon we're going to get a fry up?' was the early thought of one Julie) the pilgrimage revealed that their own lives, or at least the lives of their mothers', were reflected in Julie Cope's. 'It's like you've been watching us' said Julie. 'It makes you feel important' agreed Julie.
However, my favourite was site manager Jason who, despite being a bit baffled at first and having to cope with the cynicism of his builders, ended the project believing more fully in Julie Cope than perhaps Grayson Perry himself. 'We've made her come alive' he said as a huge statue of Julie was placed atop the roof. 'It's a bit like giving birth myself.' There was definitely one or two tears beneath the hard hat. Niagara Falls, Jason. Niagara Falls.