Go Sandy! Team Sandy! #SandyFTW! Our best beloved baking show has begun a sixth series and it's already obvious who to back for the final.
The Mary Berry-approved gran Marie may have won star baker, but Sandy, a 49-year-old child welfare officer from Bradford, has the insouciance of series four's Ruby, the playful wit of series fives's Norman and the cool-headed competence of series two's Joanne. Let's get T-shirts made up, asap.
In the meantime, there's still some baking to be getting on with, and this Cake Week episode eased us in gently with a classic madeira. What could be more delightfully simple, wondered presenters Mel and Sue. But of course, these GBBO grandstanders always know how to over-complicate matters.
Trainee anaesthetist Tamal injected his with a syringe of syrup; travel photographer Ian took the opportunity to show off his sophistication with Caribbean flavours, coconut, lime and ginger; and this year's youngest contestant, Flora, 19, beat them all. She's so posh, she forgot to preheat the oven for her blood orange madeira because – get this – they've got an Aga at home!
The Great British Bake Off 2015: Meet the 12 contestants
The Great British Bake Off 2015: Meet the 12 contestants
1/12 Nadiya, 30

Full-time mother of three Nadiya lives in Leeds with her husband. Born in Luton to a Bangladeshi family, she grew up wondering why her father only sold ice cream as a desert in his restaurant, as deserts aren't a major mealtime in Bangladesh, so she soon got out a whisk to make her own

BBC

2/12 Marie, 66

This year's oldest contestant, Marie was entered by her daughter who claims the baker couldn't "even boil an egg" while she was growing up. The turning point was when she moved to Paris and was inspired by the patisseries. We're expecting some amazing croissants

BBC

3/12 Alvin, 37

Father of two, Alvin is originally from the Philippines but now works as a nurse in Berkshire. According to the BBC, he's a true perfectionist who once repeatedly baked bread each day for three weeks until he got it just right

BBC

4/12 Dorret, 53

Originally from the West Indies, Dorret actually grew up in Preston and now works as an accountant. She enjoys hosting dinner parties with her husband to "impress their friends with their skills"

BBC

5/12 Flora, 19

The youngest baker in this year's competition, Flora is an assistant at a contemporary art gallery and is currently waiting to start her history of art degree. Expect some tastefully arranged cakes

BBC

6/12 Ian, 41

Travel photographer Ian lives with his wife and two children in Cambridgeshire. Recently, he's become more of a house husband, making his family fresh bread every day, but that doesn't stop him being the Dalai Lama's personal photographer when he's in the UK

BBC

7/12 Mat, 37

Fire Fighter Mat began baking three years ago in between work shifts and is a self-confessed "competent amateur" who "learns every time he bakes". His ambition, apparently, is to one day own a dishwasher

BBC

8/12 Paul, 49

Prison governor Paul sees being on the show as "an opportunity to show that men like me, stereotyped by our jobs do and can love baking and that it is a skill and talent to be proud of." The Welshman also enjoys exploring the countryside with his wife and three sons

BBC

9/12 Sandy, 49

Mother of one, Sandy is a child welfare officer who lives near Bradford. Describing her baking style bluntly, she said: "it might not be glamorous but it's tasty"

BBC

10/12 Stu, 35

Professional musician Stu has toured the world, and according to these photos, has a hat surgically attached to his head. The lead singer used to watch his parents in their restaurant and was amazed "how something liquid could go in and out would come this fluffed up awesomeness"

BBC

11/12 Tamal, 29

Tamal's parents moved from India to Hertfordshire in the 1960's, his older sister soon teaching him to bake. He is now a trainee anaesthetist in Manchester, and once baked a five tier wedding cake

BBC

12/12 Ugne, 32

Originally from Lithuania, Ugne's main hobby may be baking but she is primarily a bodybuilder. She lives in Essex with her partner, also a bodybuilder, and two children. She's the one who said cake is a "nutritional sin"

BBC
How big do you like your walnuts? That was the most pressing question of the Technical Challenge in which the dozen bakers were asked to recreate Mary's Walnut Cake, a great feat of Victorian engineering which looked like it had been iced with bathroom tiling grout.
Deprived of a full recipe to consult, the contestants panicked over how small they should chop. ("If you cut a walnut into four pieces, that's too big," judge Paul Hollywood later gnomically revealed.)
It was, however, the unbearable wait for sugar to caramelise that really sorted the dab-hands from the dilettantes.
"Mary said one tablespoon. I'm gonna break the rules," announced Stu, a tattooed rebel in a pork pie hat, as he recklessly added more water to the pan.
How did that work out for him? Let's just say you could easily spot Stu's cake in the judging line up. It was the one topped by a single, lonely-looking caramelised walnut.
Cockiness is the ultimate Bake Off faux pas, but an attack of nerves can also ruin a contestant's chances, as 53-year-old accountant Dorret discovered during the Showstopper Challenge.
She was initially confident about making a Black Forest gateau – "I like working with chocolate, I like working with alcohol. This is the perfect bake for me" – but it all fell apart, literally, in the last five minutes. Repeat after Sue, Dorret: "It's just a cake, it's just a cake. It really is just a cake."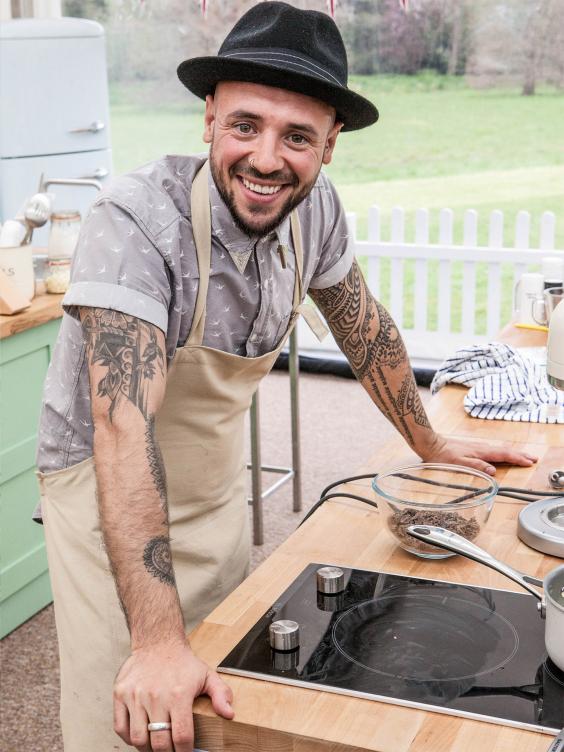 Thanks to Stu's egregiously trendy outfit and rubbish recipe instincts, Dorret escaped elimination this week; but only just.
Really, everyone should aim to be a lot more like our Sandy, who made cheeky eye-contact every time the camera pointed her way and had a winningly heavy hand when it came to pouring cherry kirsch. "You're supposed to measure this out, aren't you? But…"
With Sandy taking care of the show's quota of gentle humour in this way, Mel and Sue were free to push their own banter into previously uncharted territory.
"I can't wait to romp in your forest," Mel told a terrified Ian at one point. That was perhaps too much sexual aggression, even for this show.
Reuse content