Tonight the heat was rising, let alone the cakes, as the big semi-final got underway in the Bake Off tent.
"It's good to see four Brits in a semi-final of anything," joked co-host Mel, as Chetna, Luis, Nancy and Richard prepared to do battle; the latter's trademark pencil behind the ear suddenly looking more threatening than usual.
Record-breaking four-time star baker, builder Richard, has cemented himself as the leader but in the ninth week, the judges' beady eyes were peeled for any soggy bottoms, bad bakes and decorative disasters.
First on the menu is Turkish sweet pastry Baklava – two different types and 24 portions in total. No big ask then and "difficult for a professional, let alone amateurs", as Mary Berry dramatically pointed out.
Chetna's revelation that she will be making a chocolate Baklava shocks Paul Hollywood to his core. How on earth will she be able to tell when it is baked? It's all about the flake and the crispness!
"Sometimes your eyes can kid you," Paul warns, his own piercing blue set glittering. We're sure you've "kidded" many with those beauties Mr Hollywood. 
Not one to leave all the naughty fun to Paul, the ever-elegant Mary soon tells Luis to "get pulling" his pastry, prompting Sue to quip that the 80-year-old is "in pulling mode". Whatever will the 'serious seven' who complained about the Bake Off's innuendos be making of all this sauciness?
Nancy's "in no way legal" wrinkly, penis-shaped Baklava takes things further before Richard announces his intention to get his pastry sheet "flipping massive" and...perhaps it's time to move on. 
Next, the final four make a "little German tricky pastry" with 20 wafer-thin layers that no-one knows anything about, let alone how to pronounce and spell it.
It's the men who emerge triumphant in this technical as Chetna and Nancy are left with some "catching up to do". Luis comes top with his "pretty faultless" bake, smashing Richard's chances of a fifth star baker triumph.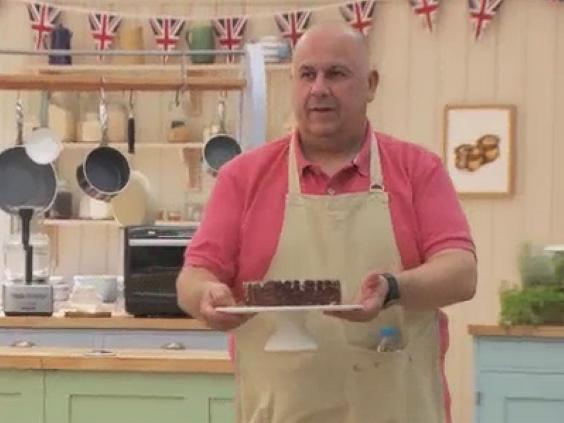 Cue the over-dramatic music - it's Showstopper time, and the last bake before next week's final. The challenge is Entremet, "top end stuff" as Nancy helpfully explains.
"Each Entremet has to be a work of art" says Mary, yanking up the pressure to an almost unbearable level. Good job there's only one episode left - the tension is getting too much.
Richard's polka dot sponge for his grapefruit Entremet sets the design bar high from the offset while Nancy's decision to drown hers in a chocolate glaze raises doubts.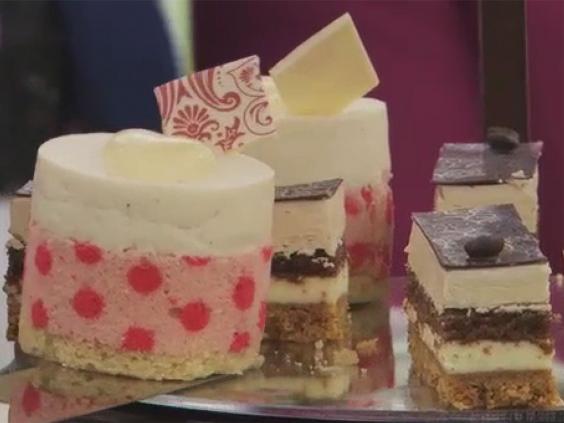 "I don't know whether I'm Arthur or Martha this afternoon," Nancy laughs. Bit awkward - student Martha left in tears last week. Gees, be more sensitive Nance.
This week was Chetna's turn to bid farewell to her Bake Off comrades, leaving Nancy to take on the boys in the final. It's anyone's game, but Richard remains the one to beat.
Reuse content