Gemma Collins thinks she has malaria, Jimmy Bullard has undertaken his first Bushtucker Trial and Kendra Wilkinson is jealous of girls she hasn't even met yet – yes, it's day two in the I'm A Celebrity camp.
Last night's launch saw 10 million viewers watch the newest batch of 'celebrities' enter the Aussie jungle and it hasn't taken long for the big characters to emerge.
You can catch up on our live blog's of the first night events here, but for those of you who missed tonight's episode, here were some of the highlights:
TOWIE's Gemma proves herself the biggest hypochondriac quite possibly ever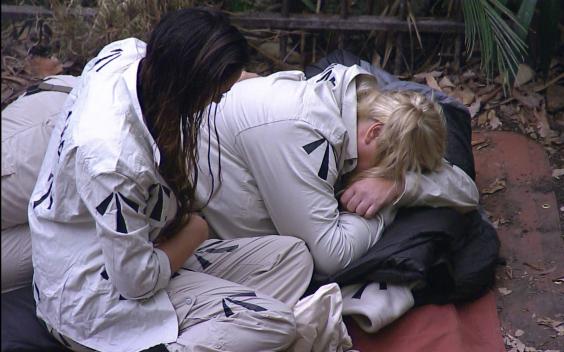 Oh dear, Gemma thinks she's contracted malaria in the Celebrity Slammer already:
"I think I've got it, I've had the worst diarrhoea ever. I feel like I've got malaria. My poo is bright fluoresecent yellow, we've got to get out of here today!"
Craig Charles finds himself in a Celebrity Slammer "chick flick"
Now that World Superbike champion Foggy has left for the main camp, Corrie's Craig is the only bloke among a group of women:
"It's like I'm in a chic flick. There's no car chases, there's no gun fights. I'm just stuck in the middle of it really. They talk about make-up and magazines and menstrual cycles and sexy men and that kind of stuff."
Jimmy tackles the Tunnel of Terror and has a tough decision to make
Footballer Jimmy was the first celeb chosen by the public to take part in a Bushtucker Trial. He had to descend a ladder and crawl through an underground submerged tunnel to retrieve a possible six stars – easy right? Think snapping Chinese water dragons, 50 live eels, mud crabs and vicious water pythons.
"Calm down in there Jimmy, he's obviously very angry that snake so no sudden movements," said Ant at one point. Argh!
Jimmy won four stars – would he swap them for Croc Creek meals or release another inmate from the Slammer?
Former Playboy girl Kendra shows her jealous side
Jimmy opted to release a new Celebrity because it "would have been a bit spiteful to take the food". The team chose to save actress Vicki Michelle and Kendra was somewhat relieved.
"I'm glad we voted in Vicki because to me she's beautiful but a little less threatening than Nadia. I'm not ready to compete in bodies right now. I already have Mel. Stop throwing these models in my face. God it's not fair. If that Nadia comes walking in with a grass skirt and little fruit top…I'm going to start doing my sit ups before she comes."
"That Nadia." Ouch.
Gemma has another meltdown as the Slammer celebs knit for biscuits
I'm A Celebrity 2014: Who's in the jungle
I'm A Celebrity 2014: Who's in the jungle
1/12 I'm A Celebrity 2014

Former conservative politician Edwina Currie has entered as a last-minute addition to the line-up

ITV

2/12 I'm A Celebrity 2014

She is joined by X Factor 2014 contestant Jake Quickenden who was recently eliminated from the singing competition

c

3/12 I'm A Celebrity 2014

Singer Tinchy Stryder

ITV

4/12 I'm A Celebrity 2014

TV presenter Melanie Sykes

ITV

5/12 I'm A Celebrity 2014

Former Wigan player Jimmy Bullard

ITV

6/12 I'm A Celebrity 2014

Former professional motorbike driver Carl Fogarty

ITV

7/12 I'm A Celebrity 2014

Star of US reality TV show The Girls Next Door Kendra Wilkinson

ITV

8/12 I'm A Celebrity 2014

'Allo 'Allo actress Vicki Michelle

ITV

9/12 I'm A Celebrity 2014

Model and singer Nadia Forde

ITV

10/12 I'm A Celebrity 2014

BBC newsreader Michael Buerk

ITV

11/12 I'm A Celebrity 2014

TOWIE star Gemma Collins, who has since quit the show

ITV

12/12 I'm A Celebrity 2014

Coronation Street star Craig Charles. The actor has since left the show following the death of his brother

ITV
The three remaining Slammer celebs were given a knitting challenge and rewarded with a biscuit for every ten rows knitted. Of course, Gemma found this utterly boring and soon began moaning:
"I'm just not enjoying it one bit. People that murder get treated better than this and that's the truth. Even a murderer gets fed three times a day!"
Reuse content