It's all kicking off as the celebrities endure another day in the Australian bush.
The jungle has claimed its first victim: Towie's Gemma Collins makes her exit after only three days. It was all getting too much for the reality TV star - and that was even before she had to take on a Bushtucker trial.
The same can't be said for Tinchy Stryder, who faces his first challenge, which includes rooting through rotten meat covered in flies to find those stars.
Meanwhile Red Dwarf actor Craig Charles is feeling low – Gemma is bringing the mood down with her wobblies. But that's not the worst of it, Craig has to take on a night-time task with model and singer Nadia Forde that involves dealing with nasties in the Bush Bunker.
Former footballer Jimmy Bullard and model Kendra Wilkinson have been chosen to take on the next Bushtucker trial together but that's for another day.
Tinchy faces the 'Chamber of Horrors'
Pint-sized rapper Tinchy Stryder was nominated by the public to endure his first Bushtucker trial.
"I'm worried, I don't know what's going to happen, I don't know what's going to pop out at me," the pop star says with a sense of trepidation, when Ant and Dec ask him how he feels.
Michael Buerk gives Tinchy some support as he walks across the bridge and to meet his fate.
He's surprisingly calm and collected even when he has to negotiate his way around a monitor lizard in one chamber and fish guts and slime in another.
He might "ewww" his way through the trial but overall he's still in good spirits as he shoves his hand into boxes of ants and snakes to get stars.
It turns out that I'm A Celebrity is basically an updated version of The Crystal Maze but with less Richard O'Brien and more visceral gross-out moments.
After collecting four out of seven stars, Tinchy sacrifices the food for Croc Creek to release Gemma – what a good lad.
Could this experience be the inspiration for Tinchy's next album?
Craig is nettled by Gemma
She's up one moment and down the next – and Robert Wars presenter Craig can't deal with it.
As he tells the cameras, "I feel duped by Gemma, the Gemma I like is hilarious and warm and the other side is conniving and manipulative and over the top, you don't know what her motives are, you have to take what she says with a pinch of salt."
Her distress is having a detrimental effect on Craig. He just doesn't want to have to deal with the Jekyll and Hyde personality that's taken over the reality star. Well, he doesn't have to for very long.
We feel Craig's pain but you do wonder what he is doing in the jungle. Surely, there's going to be another series of Red Dwarf, right?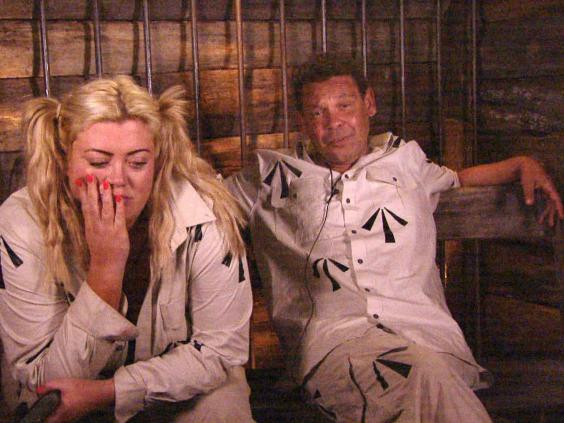 Gemma marks World Toilet Day (not really)
In honour of World Toilet Day this year, Gemma apparently has a celebratory number two – it hasn't happened in a couple of days. But finding out that she's heading for Croc Creek seems to provide her with the release she needs.
Craig and Nadia walk 5,000 steps - or not
The pair take on a night time challenge, where they have to walk 5,000 steps to get a piece of fruit. After three days straight of porridge, it's understandable.
Sadly, their maths isn't quite right and they end up with two pieces, instead of the four they are expecting.
We're not quite sure what went wrong with their counting - perhaps that's what happens when you walk around in circles repeatedly at speed.
I'm A Celebrity 2014: Who's in the jungle
I'm A Celebrity 2014: Who's in the jungle
1/12 I'm A Celebrity 2014

Former conservative politician Edwina Currie has entered as a last-minute addition to the line-up

ITV

2/12 I'm A Celebrity 2014

She is joined by X Factor 2014 contestant Jake Quickenden who was recently eliminated from the singing competition

c

3/12 I'm A Celebrity 2014

Singer Tinchy Stryder

ITV

4/12 I'm A Celebrity 2014

TV presenter Melanie Sykes

ITV

5/12 I'm A Celebrity 2014

Former Wigan player Jimmy Bullard

ITV

6/12 I'm A Celebrity 2014

Former professional motorbike driver Carl Fogarty

ITV

7/12 I'm A Celebrity 2014

Star of US reality TV show The Girls Next Door Kendra Wilkinson

ITV

8/12 I'm A Celebrity 2014

'Allo 'Allo actress Vicki Michelle

ITV

9/12 I'm A Celebrity 2014

Model and singer Nadia Forde

ITV

10/12 I'm A Celebrity 2014

BBC newsreader Michael Buerk

ITV

11/12 I'm A Celebrity 2014

TOWIE star Gemma Collins, who has since quit the show

ITV

12/12 I'm A Celebrity 2014

Coronation Street star Craig Charles. The actor has since left the show following the death of his brother

ITV
The night of hell in the Bush Bunker
The pain isn't over for the duo though, who spend the night in the Bush Bunker and complete a challenge. It's creepy even before the rats, cockroaches et al make an appearance. 
While Nads freaks out, swears and generally has a "Gemma moment" - as she put it - it's up to Craig to stay level-headed and retrieve the stars.
His Scouse charm helps to calm her but it's enough and he's left doing the leg work while she screams.
They successfully complete their challenge and are finally allowed to meet the others.
Poor, old Craig - he's had to deal with a lot and it's only day three.
Gemma leaves the jungle
We found out the news earlier today but tonight we saw the Towie star make her exit to freedom. It's been a tough few days for Gemma.
First she thought she had Malaria thanks to some dodgy, neon-coloured diarrhea. Then she seemed to hit rock bottom and cry herself silly before playing leapfrog with Nadia.
But in the end Gemma has an epiphany and realises who she "really" is - it's been "a life-changing experience" for her.  Even if she's done very little.
Gemma tells the Bush Telegraph, "I'm a celebrity get me out of here, I can't do it I have to go. I'm very sorry if I've let anyone down or if I've caused any agg but I have to look after number one and I have to go."
"I have to start living my life the way I want to live it and this isn't it. Do you know what, I don't want any of this, I just don't want to have to put myself through such extreme measures all the time. I just want to be normal."
So there you have it. The show's drama queen has left, who will take up her crown now?
Reuse content