Caitlin Moran, the gurning face of British feminism, has written a sitcom with her sister Caroline. It's based on their years as the eldest of eight home-schooled children, living with an eccentric eco-warrior mum on a Wolverhampton council estate, and it's great.
But then, if you saw the pilot for Raised by Wolves, you already know that and have been eagerly awaiting this full series since Christmas 2013.
Most of the action revolves around Caitlin's alter-ego Germaine (Helen Monks), a bovver boot-wearing, ebullient over-sharer, and Caroline's Aretha, an icy-cool introvert played by Alexa Davies. Both young actresses are brilliant, but especially Davies, who looks so much like the real Caroline Moran I can't quite convince myself they're not related. Molly Risker as third daughter, Yoko, also got more screen time here than in the pilot, but it was still their straight-talking survivalist mum Della (Rebekah Staton) who had all the best lines.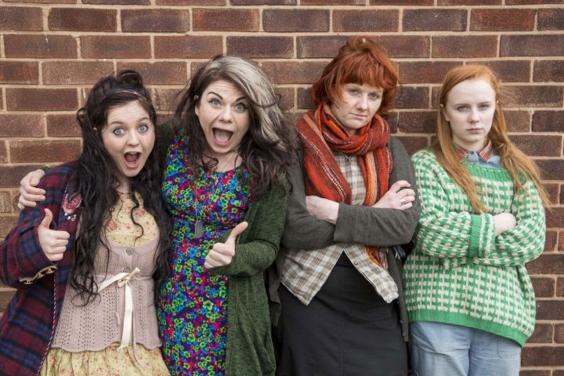 She took her brood to the local common to forage for food and "learn how not to starve to death". Later, when Yoko, overwhelmed by Germaine's graphic description of menstruation, whimpered, "I don't think I want to be a woman, mum", Della had some words of encouragement: "No one does, love, but the men are too chicken-shit to handle it, so here we are." Amen, sister. You can quite  see how a woman this magnificent  would raise the writers of Channel 4's  most lovable new sitcom.
The Top 10 Most Powerful Women In The UK
The Top 10 Most Powerful Women In The UK
1/11 No.10 - Caitlin Moran - journalist and author

#9 - Caitlin Moran, 0.4m followers.

Stuart Wilson/Getty Images

2/11 No.9 - Laura Bates - founder of the Everyday Sexism Project

The Everyday Sexism Project, which was founded by Laura Bates, has collected 50,000 entries

Teri Pengilley

3/11 No.8 - Francesca Martinez - comedian, actress and disability campaigner

Andy Paradise

4/11 No.7 - Dido Harding - CEO, TalkTalk Group

Dido Harding has reshaped and turned around Talk-Talk

5/11 No.6 (Joint) Nimco Ali - anti-FGM activist

FGM survivor Nimco Ali described how Jeremy Hunt's opening gambit was to tell her he had been on a hospital night shift

6/11 No.6 (Joint) Leyla Hussein - anti-FGM activist

7/11 No.5 - Julie Bentley - chief executive of Girlguiding

Julie Bentley, chief executive, Girlguiding UK

8/11 No.4 - Carmel McConnell - activist and founder of Magic Breakfast

9/11 No.3 - Professor Nazneen Rahman - geneticist and cancer specialist

10/11 No.2 - Julie Bailey CBE - campaigner and founder of Cure the NHS

Julie Bailey, of the campaign group 'Cure the NHS', whose mother Bella, 86, died whilst she was a patient at Stafford General Hospital, poses outside the Houses of Parliament with a copy of the report of the Mid Staffordshire NHS Trust Foundation Public Inquiry on February 6, 2013 in London, England.

Oli Scarff/Getty Images

11/11 No.1 - Doreen Lawrence OBE - anti-racism campaigner

Doreen Lawrence
Raised by Wolves waves the flag for both working-class intellectualism and Wolvo pride ("We're not southern twats and we're not northern twats; we're Midlands twats"), leading to comparisons with the Manchester-set Shameless, but it has  more in common with flashback family sitcoms like Everybody Hates Chris and Malcolm in the Middle.
The difference, more radical than it should be, is that while those shows are from the point of view of teen boys, Raised by Wolves pulls back the shower curtain on female adolescence. First periods, first bra-buying and lustful crushes on prats called Lee; even if you yourself were never one of these weird, wondrous creatures, it makes for an enjoyable trip down memory lane.
Reuse content