We are now three quarters of the way through ground-breaking French crime drama Spiral and finally the lines of inquiry are starting to come together in the harrowing murders of a mother and her baby.
Each week viewers are given a double dose of this French drama and tonight the story really gets going. Captain Laure Berthaud (Caroline Proust) and her partners discover the paternity of the murdered baby: it's Zacharie Gabbai. On top of that more disturbing facts emerge about the dead mother Sandrine – she was molested by her own father as girl.
Meanwhile Carol Mendy (Fatou N'Diaye) is trying to unsuccessfully pin down powerful Libyan billionaire Tarek Ziani (Dhaffer L'Abidine) and a mourning Josephine Karlsson (Audrey Fleurot) is brought in to represent him.
Writers Anne Landois and Simon Jablonka, who have penned this series, are doing a fine job of maintaining the suspense alongside the slowburn pace of Spiral. The multiple strands, too, prevent the series from becoming stilted.
The best TV to watch in 2015
The best TV to watch in 2015
1/13 Game of Thrones

Sky Atlantic, April

HBO

2/13 Poldark

BBC 1, March

BBC

3/13 Fortitude

A murder mystery set in a close-knit Arctic Circle community, with an impressive ensemble cast -Sky Atlantic, January

Sky Atlantic

4/13 Banished

BBC 2, March

BBC

5/13 Ordinary Lise

BBC 1, March

BBC

6/13 Life in Squares

Phoebe Fox, James Norton and Lydia Lynch in 'Life in Squares'

BBC

7/13 Wolf Hall

BBC2, January

BBC

8/13 Better Call Saul

Netflix, February

Netflix

9/13 Mel & Sue chat show

ITV, January

Princess Productions

10/13 Mad Men, Series 7, Part II

Sky Atlantic, Spring

©Lionsgate

11/13 Dementiaville

This series of documentaries explores both the heart-breaking experiences of those with dementia and a ground-breaking new approach to their care - Channel 4, Summer

Georgie Scott/Age UK 2013

12/13 Morning Has Broken

More than a decade since Nighty Night established Julia Davis's reputation for caustic character comedy, she's back with a new creation on Channel 4

BBC

13/13 Cucumber/Banana

Sixteen years after Queer as Folk, Russell T Davies returns with two interlinked series about gay life in Manchester on Channel 4

c.Showtime/Everett/REX
For those unfamiliar with Spiral, it's one of the biggest TV imports from France. It's not hard to see why: it's gritty and engaging, well-acted drama with well-rounded characters. This is the fifth series so far.
The subtitles do not hinder the drama unfolding on the screen – it demands the viewer's complete attention regardless of language.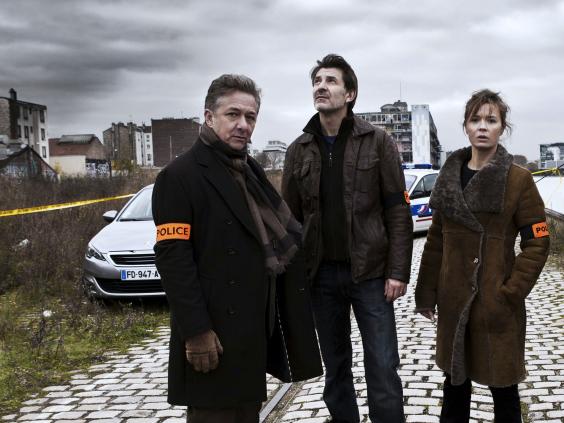 Although we have our own slew of detective shows, British crime drama is now facing stiff competition from all corners – along with all the Scandi imports.
It's wonder why Spiral isn't broadcast on BBC Two rather than remaining a (mostly) hidden gem on BBC Four. With the recent success and ratings of the Anglo-French set drama The Missing, starring James Nesbitt, it would make sense to give Spiral a chance on a more popular channel.
Reuse content