There were new beginnings all over the shop down in the south Wales valleys in Stella, Ruth Jones's warm-hearted comedy drama, back for a fourth series. In the title role, Jones was starting a new term at nursing college, belt-tightening meant Aunty Brenda (Di Botcher) was on the look-out for a new lodger – no vegans or "fancy types" were the prerequisites – and Stella's unfortunately named boyfriend Michael Jackson (Patrick Baladi) was trying to run his solicitor's firm from Stella's cramped house. At the centre of it all was the grand opening of Big Alan and Little Alan's (Steve Speirs, Daniel Gammond) new French café, "Le Cafe de Les Alans", decked out on the cheap with knock-off Chinese appliances, much to wannabe Gordon Ramsay Little Alan's disgust.
These community-based dramas populated by eccentric characters lend themselves to catastrophe and resolution. This week, it was no food at the café after the bargain basement kit-out backfired. A quick whip-round up at (the fictional) Pontyberry and there was roadkill, carrots and hay on the menu, plus crates of bubbly from new premium bond millionaire Dai Davies (Anthony O'Donnell).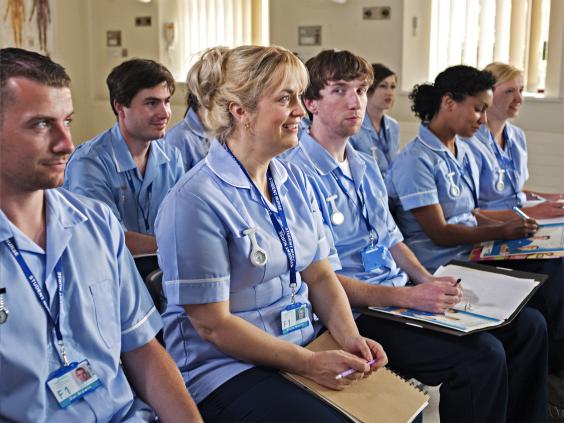 Got that? It doesn't matter. Even if you're not abreast of the goings-on, it's still perfect Friday night sofa-slumping fodder. At its heart is likeable Stella, the kind of woman with whom most of us would happily pass an afternoon nattering over a cuppa. The warmth is peppered with absurd moments – the couple leaving their entire estate to a donkey, for example – and leftfield lines, which if we're all completely honest, sound better with the local lilt.
Take Brenda's worries about a new neighbour: "They could be anyone, swingers, doggers, Nazi war criminals," she said. Try saying that in a Welsh accent. It's the characters and their traits, geographically influenced or otherwise, that make this show a happy gem in a schedule full of tense hours of murders and psychological thrills.
Anyone who was hoping for sex, drugs and rock'n'roll in Poplar now that Call the Midwife has reached the Sixties will have been disappointed so far. Well, in this fourth episode of the run, there was talk of sex, though syphilis probably isn't what the baby boomers want to be remembered for.
Call the Midwife Christmas Special
Call the Midwife Christmas Special
1/10 Call the Midwife Christmas Special

Chummy played by Miranda Hart

BBC

2/10 Call the Midwife Christmas Special

Nurse Trixie Franklin and Fred

BBC

3/10 Call the Midwife Christmas Special

Sister Winifred (Victoria Yeates), Nurse Patsy Mount (Emerald Fennell), Nurse Trixie Franklin (Helen George), Sister Julienne (Jenny Agutter)

BBC

4/10 Call the Midwife Christmas Special

Sister Evangelina, PC Peter Noakes, Baby Freddie and Sister Monica Joan

BBC

5/10 Call the Midwife Christmas Special

Fred and Sister Monica Joan

BBC

6/10 Call the Midwife Christmas Special

Fred played by Cliff Parisi

BBC

7/10 Call the Midwife Christmas Special

Sister Monica Joan and Cynthia Miller

BBC

8/10 Call the Midwife Christmas Special

Cynthia Miller and Shelagh

BBC

9/10

Philip Worth and Mature Jennifer Worth

BBC

10/10 Call the Midwife Christmas Special

Chummy, Sister Evangelina, Sister Monica Joan, Cynthia Miller, Nurse Patsy Mount, Nurse Trixie Franklin, Sister Julienne

BBC
Thankfully, the disease is now one of the rarer STIs, but in the bad old days, as this episode told us, prostitutes ignorant of sexual health, or who had clients who refused to wear protection, often spread it unwittingly.
Through the medium of quietly uplifting drama and stellar cast performances, Call the Midwife reminds us time and again that we women (and blokes too) have really never had it so good.
Aside from girls on the game, there was a dad-to-be who thought only a son could carry on the family rope-making business – it's not wimmin's work, see? Obviously, for dramatic purposes, he had a girl and obviously, he was gooey-eyed over her by the end of the hour.
Now that the writers have exhausted the storylines featured in Jennifer Worth's memoirs, on which the series is based, they are free to cherry-pick their themes. A preview for the next episode showed we're in for immigration. Slightly heavy-handed, yes, occasionally trite, but when stories are told as well as this, they remain a pleasure to watch.
Reuse content