Grease up your buns, whip your meringues to a peak and turn the innuendo level up to 11 – Bake Off is back. And this time it's feeling charitable.
This week's instalment of the nation's favourite soggy bottom avoidance contest was all in aid of Comic Relief and we had a host of grand dames to get the ovens firing. First to pop their goods into the judges' mouths were mini-songstress Lulu, Dame Edna Everage and most of the cast of Absolutely Fabulous. "We've got wall to wall tarts here!" honked Dame Edna, who was truly there for a good time, not a long time.
Ginger biscuit bombshell Lulu locked cream horns with Jennifer Saunders as the two vied for the yeasty affections of judges Paul "my other cake's a Harley Davidson" Hollywood and Mary "magic sponge fingers" Berry. However it was Joanna Lumley and Dame Edna who stole the show, one resembling a half awake Duchess who'd wandered into the servants' quarters by mistake, the other gleefully skating around the Bake Off marquee, mashing cake mix between her fingers like a toddler on shore leave. Both on fine form.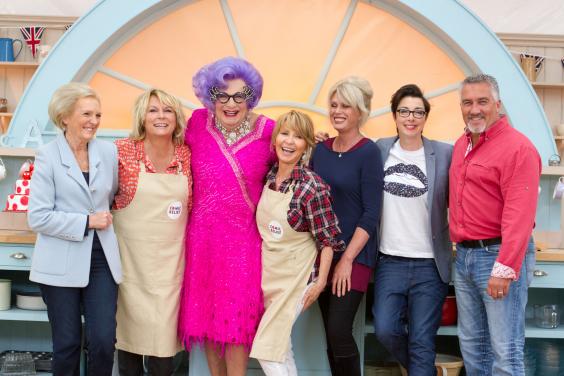 Oh, J-Lum. "I've had to guess what a table spoon is," she admitted to Sue Perkins before mistaking coffee for chocolate and filling her cake with it. "Oh dear, oh dear, oh lor', anyway never mind," was the unflappable response. Absolutely fabulous.
However, it was Down Under rather than Ab Fab that took centre stage under the marquee roof. This was a bravura performance from Barry Humphries aka Edna, bringing out his outrageous alter-ego one more time for Comic Relief. And boy did she have fun. "I'm not bound by rules" proclaimed the octogenarian antipodean stormer. She really wasn't.
The Great British Bake Off for Comic Relief line-up
The Great British Bake Off for Comic Relief line-up
1/16 Abbey Clancy

Getty

2/16 Alexa Chung

Getty

3/16 Chris Moyles

Getty

4/16 Dame Edna Everage

Getty

5/16 David Mitchell

Getty

6/16 Gok Wan

Getty

7/16 Jameela Jamil

PA

8/16 Jennifer Saunders

Getty Images

9/16 Joanna Lumley

Getty

10/16 Jonathan Ross

PA

11/16 Kayvan Novak

Getty

12/16 Lulu

Getty

13/16 Michael Sheen

Getty

14/16 Sarah Brown

Getty Images

15/16 Victoria Wood

Getty Images

16/16 Zoella

Getty Creative
Indeed, every burnt biscuit and overcooked meringue was not only intentional but genius. "My fruit tarts have their own reality," she said. At one juncture she took to cutting a burnt biscuit of its tin with a pair of secateurs while Sue looked on astonished, wishing nice Ruby was there saying something self-deprecatory. "I've got on oven on down here!" the Dame hooted when Paul first approached. The bronzed baker positively blushed.
Dame Edna merrily pounded macadamias with a rolling pin, refused to put chocolate in her chocolate cake and generally bent the world around her to her will. Upon being told that her biscuit was "pleasant but not what we asked for" by Paul, she replied "thank you, I'd love to taste one of your biscuits one day". Paul stared, speechless, not knowing if he was being laughed at, flirted with, praised, or all three.
With time ticking down towards the end of the showstopper, our bakers were frantically making sure their tiered chocolate cake was finished to perfection. Lulu panicked, Jennifer Saunders dashed, J-Lum flapped. Among the maelstrom, sweat and flour the camera cut to Dame Edna, utterly serene in her sequins, barely moving a muscle. "I'm making icing," she said. She was.
Reuse content