Four more hopefuls entered the tent tonight in hopes of baking glory. Comedian David Mitchell, Radio 1 DJ Jameela Jamil, Hollywood star Michael Sheen and education campaigner Sarah Brown put on the aprons and got their mixing bowls at the ready.
From icing disasters to setting the kitchen on fire, this is how it all went down…
"I'm not Nigella, it's alright"
Poor, old Jameela Jamil, the self-confessed baking virgin did give it her best shot but seemed to get progressively worse as the Bake Off continued.  The star shortbread cookies with orange and marshmallow looked as if they should hit the spot but sadly all they did was send Paul Hollywood into a choking fit. "How dry are they?" Jameela squealed as Paul coughed away.
She had gumption for not giving up when her Pavlova came out simultaneously burnt and undercooked. Jameela improvised with an Eton Mess of sorts. Sadly, we've not seen Mary or Paul look quite so disappointed since Baked Alaska-gate. We probably couldn't have done much better in the same situation either.
Sarah Brown the golden girl doesn't quite have it in the bag
It turns out it really could be anyone's game tonight. While each of Sarah's culinary creations looked cooked to perfection and tasted rather yummy to boot, both Michael and David seemed to be making surprising comebacks in the Bake Off tent when it came to flavour. Even if she doesn't win, we want Sarah to be our new best friend because she seems pretty awesome and a dab hand at baking.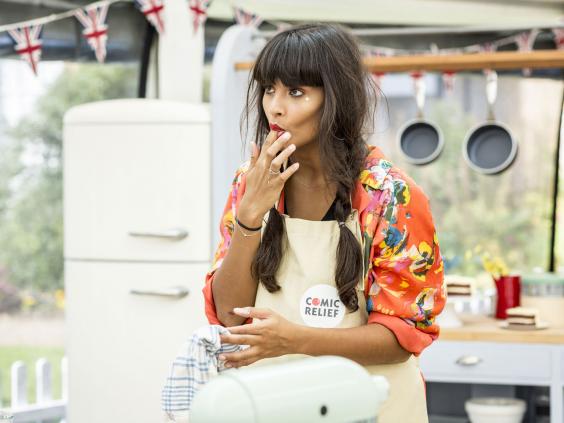 David whips up something hideous-looking but delicious-tasting
He's pretty much brilliant at everything, so we secretly wanted him to be a little bit rubbish in kitchen – and David didn't disappoint. If we ever go round to David's for dinner, expect the most revolting-looking but scrumptious dish of your life. Despite appearances, we'd happily tuck into one of those Victoria sponge strawberry shortbread things.
Michael goes Jackson Pollock in the kitchen  
He's played David Frost and Tony Blair, perhaps for his next role Michael should take on the abstract expressionist artist? The uber-competitive actor made it back in the following rounds after a disastrous start with some pink Welsh dragons decorated (unintentionally) in a Pollock's drip icing style. But he made up ground with a wickedly impressive and layered Pavlova – was he just hustling the whole time?
Reuse content