Tonight four more famous faces enter the Bake Off tent in an attempt to be crowned Star Baker by Mary Berry and silver fox Paul Hollywood.
Former Radio 1 presenter Chris Moyles, model and presenter Alexa Chung, professional national treasure and comedian Victoria Wood, and Fonejacker actor Kayvan Novak enter the battle of baking trays and self-raising flour.
Obviously, only kitchen-related chaos could ensue…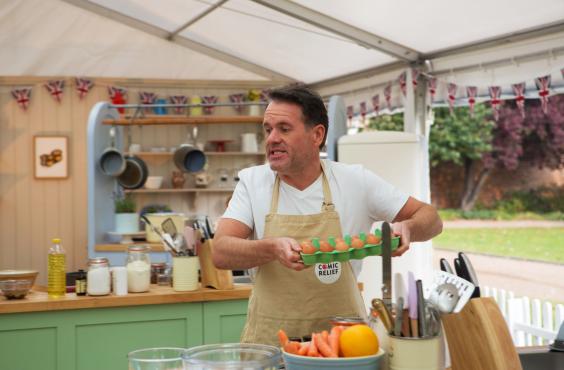 'Baking is a science... I wasn't very good at science.'
There's always an underdog on the show and tonight Chris took on the role. From egg shells in his traybake to patchwork icing on his selfie cake in the showstopper round, things didn't go well for him in the Bake Off tent.
Kayvan the Fonejacker conqueror is an 'acquired taste'
"Never baked before but I imagine myself to be an excellent baker because I do most things well, so why not baking as well," Kayvan told us before things kicked off. His confidence was soon sagging with his failed crack at a traybake.
Kayvan's pistachio offering was described as an "acquired taste" thanks to his mum's homemade jam with the overpowering cardamom. But it did look mighty fine despite the taste test flop. He managed to claw back some dignity in the later rounds but a slice of humble pie was just what he needed to start with. His wasn't the only "flavour issue" tonight though, more on which later…
Alexa's secret baking skills impress the judges
The model, TV presenter and all-round cool girl kept saying her culinary skills weren't her forte yet seemed to come out pretty much top in the first two rounds. Rumour has it she keeps shoes in her oven at home. But her brownie tastes exactly like a brownie should while her crumpets were baked close to perfection, apparently.
Proving drawer? 'I just thought it was kitchen storage'
Clearly no one apart from Victoria actually watched the Great British Bake Off before they agreed to do this gig for Comic Relief. Luckily, the she dropped hints as she "admired" her competitors' crumpet mixes. Hilarity followed, naturally. "Victoria Wood... oh, I can play the piano, I'm really funny, I'm a great actress, oh I'm a fantastic writer, oh, I know where the proving drawer is," Alexa retorted as she got a touch of the green eye.
'Baking crumpets is a pointless task. You can buy them in the shop'
Well, Chris would say that, wouldn't he? The radio and television presenter ended up with burnt on the outside, raw on the inside crumpets that were so bad Paul Hollywood swiftly spat a mouthful out only seconds after taking a bite. The "flavour issue", as Mary described it, didn't help either. Poor old Chris had over-salted his crumpets.
This is what this show is really all about it
But at the end of the day, putting aside the food porn and celebrity foibles, this programme is here to raise money for causes that desperately need them. Tonight Paul's visit to a centre that helps returning veterans adjust to life away from the front line was the real moment of drama and poignancy.
Reuse content