Please, Sir! Not another series of The Mill! You could almost hear the plaintive cries of TV-watching urchins everywhere last night, as Channel 4 mercilessly inflicted a second series of its unrelentingly grim, fact-based drama. The series was Channel 4's highest-rated drama of 2013, but perhaps this should be set in context: last year's Summer of Sad also included debuts for grief-stricken Southcliffe and BBC1 misery memoir, The Village. At least The Mill can plead authenticity. The characters and plots are all drawn from the archives at the Quarry Bank Mill in Cheshire.
This new six-part series opened in 1838, as the mill workers were in the midst of debating the effect of immigration on their livelihoods. Not Eastern European builders, mind, but agricultural workers from Bedfordshire displaced by amendments to the Poor Law. "The men I speak for, they're scared," said union firebrand Daniel (Matthew McNulty). "They're scared that they'll drive down our wages." Not Daniel's most evocative speech, perhaps, but rest assured there's plenty more where those came from.
Most of the characters in The Mill seem to function as mouthpieces for history text books albeit with a not so subtle contemporary relevance. Daniel's rabble-rouser chum John Doherty (Aidan McArdle), for instance, sounded like he'd been cribbing from the Occupy movement: "The English labourer did not cause the downturn, a banking crisis in America started it – so why should he suffer?"
Amid all this gloom and speechifying, there remains one inextinguishable spark of life: Esther Price, energetically played by Kerrie Hayes. When she wasn't dishing out cheek to the factory overseer, Esther found time to flash an inch of grubby ankle at the dishy new cobbler's apprentice, Will Whittaker (Mark Strepan). It's a wonder he wasn't overcome by lust. Hope of a brighter future also remained in the household of the new family from down south: "We'll prove ourselves," said Pa to the child labourers over a supper of watery gruel. "You work hard, you get your reward." He's definitely not from around here, is he?
It's no stretch to imagine Peter Jones and Duncan Bannatyne in the stovepipe hat and three-piece suit of a 19th-century industrialist. They've been lording it over investment-seekers in the Dragons' Den (BBC2) warehouse since what feels like 1838. It's actually only been since 2005, but in last night's opening episode of the new series, these original Dragons looked more imperious and weary than ever.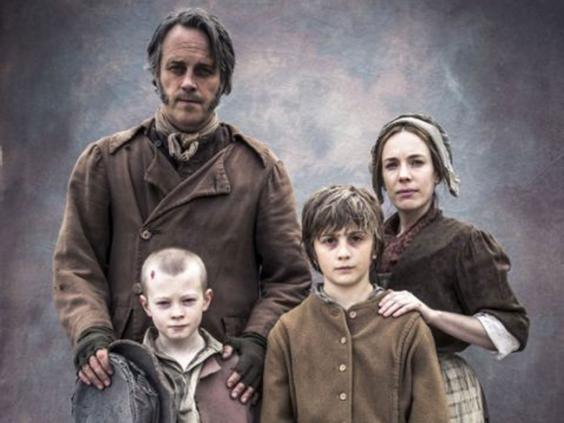 The contributions of relative newcomer designer Kelly Hoppen consisted mainly of variations on one phrase: "I'm sorry to burst your bubble, but that is hideous." Yet these well-timed interventions proved indispensable, saving the British consumer from not one, but two unforgivably ugly products: radiator covers in a Union Jack design and chunky faux-retro frames for Instagram print-outs.
Design is not such a priority for Peter Jones – one look at his stripy socks will tell you that. In what may be a Dragons' Den first he offered InstaFrame guys Jake and Joe a job at his company Jessops (salary and title unspecified). That was a compliment, right? Or was it an insult? "I'm not entirely sure what just happened," said a dazed Joke in their post-pitch interview. Perhaps the selfie they took in the lift will help jog his memory.
Jake and Joe were among the lucky ones, however. John and Claire's sob story of debt and veggie crisps failed to move the Dragons, as did the ultimate boys' toy, a drivable mini tank. For entrepreneurs, pitching in the Den means total humiliation with very little expectation of financial reward. Still, it beats the workhouse.
Reuse content