Success is all about being in the right place at  the right time. Like, say, any major British public school at any time since 1066. For that reason,  A Very English Education on BBC2 last night was essential viewing for anyone interested  in better understanding the class of men who  run our country. This humane and genial  documentary also contained insights that a commoner might appreciate: namely that even for the über-privileged, life doesn't always turn out the way you expect it to.
Between 1978 and 1979 the BBC screened a series, called Public School, about life at Radley College, a top boys' boarding school about five miles outside Oxford. For this new documentary,  the film-maker Hannah Berryman caught up with five of the students featured, now middle-aged men, and asked them to reflect on how a traditional, £3,000-a-term education impacts on the rest of your life.
In true Breakfast Club tradition, they're a varied bunch: Over-achiever Donald was top of every class, played for the first XI in cricket and rugby, but hid a tumultuous inner-life. Gregarious Paige was reckoned the "school stud" – as to how one earns such a reputation in a boys-only boarding school, I'd rather not speculate – and Tim from North Shields is the closest Radley had to a working-class hero. He stood as a candidate for the Workers Revolutionary Party in the school elections and had a regional accent which, according to Paige, "in terms of the pecking order of the school certainly put him down the list". Tim got the message, evidently; there's not the slightest trace of that accent now.
What was particularly satisfying about this documentary is how diligently Berryman posed all the questions that the 93 per cent of state-educated Britons would like answers to but are too  polite to ask. How much money do you make? Was your ability to communicate with women stunted for life? And would you have the heart to send your own children away to boarding school aged just eight?
Unlike Granada Televisions award-winning Seven Up! documentary project that tracked the lives of 14 children from a variety of social backgrounds, there were no real tragic outcomes here, but there were several unexpected ones, including the discovery that floppy-haired poet Rupert ended up joining the army: "It wasn't  to do with a love of all-male institutions, before you ask."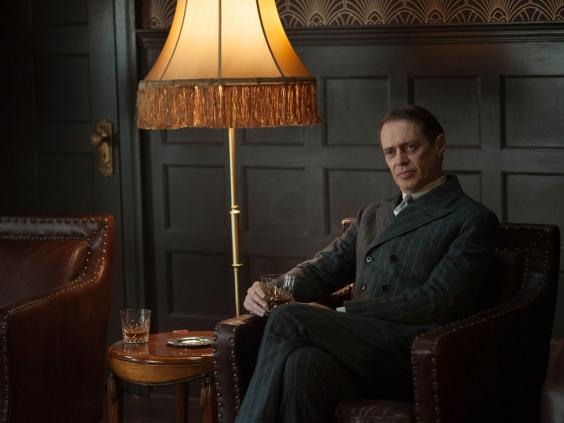 Speaking of all-male institutions, how about that Boardwalk Empire? The fourth series of the Prohibition-era gangster saga has begun on Sky Atlantic and with Nucky (Steve Buscemi) deserted by his wife Margaret (Kelly Macdonald) and bereaved by the death of his mistress Billie, it's turned into quite the sausage party. Only Gillian (Gretchen Mol) is left to represent all facets of womanhood. In this episode alone she petitioned for custody of her grandson, dabbled in prostitution and put her house up for sale, all while strung out on heroin. Now that's what I call multitasking.
HBO famously spent a record $18m on the first, Martin Scorsese-directed episode of Boardwalk Empire, but the real noteworthy achievement is that every episode since has looked just as lushly cinematic. Meanwhile, the cast of fascinating characters just keeps expanding. We're promised that Patricia Arquette will turn up as a speakeasy owner later in this season and old favourite Chalky White (Michael K Williams, aka Omar from The Wire) looks set to get more screen time now he's finally persuaded Nucky to let him open a Cotton Club-style premises on the Boardwalk.
Remember how that obnoxiously anachronistic soundtrack on the BBC's 1920s-set drama Peaky Blinders, and how it just felt desperately try-hard? Boardwalk Empire's secret is a painstaking attention to historical accuracy that makes it all seem so effortlessly cool.
Reuse content