Perhaps after last week's chaos, there was something of a re-think at X Factor HQ. The car crashes were toned down with a focus on the successes, especially the bright, young things – but we'll get to them in a moment.
There was the usual, healthy dose of ritual humiliation that the show is famed for. This week's biggest sacrifice to X Factor gods was Queen Christina, the self-proclaimed British Lady Gaga, who rocked up in a regal outfit that appeared to have been made from Quality Street wrappers.
It was always going to be four nos but just to keep things interesting she was paraded around for amusement - she's "fantastically nuts" after all. Simon Cowell put her through then crushed any hopes, it was almost like saying: "Only joking! As if! Ha. Ha. Ha."
An older gentleman named John tunelessly belted something out before getting turned down, as did Mervin from Northern Ireland, his audition was made all the worse when Mel B and Cheryl attempted to "help" him.
These "joke" acts get less and less funny with each series. It just doesn't even have the cringe funny factor like it once might have had. Is The X Factor finally running out of people to ridicule? Or have we now seen it all before?
X Factor: The real winners
X Factor: The real winners
1/12 One Direction, series 7 (Winner: Matt Cardle)

Arguably the most successful X Factor act of all time, the boy band were put together by the judges after originally auditioning individually. They came third on the show, but with a combined wealth of £70 million and the best-selling album of 2013, they're definitely the real winners.

Getty Images

2/12 Cher Lloyd, series 7 (Winner: Matt Cardle)

She came fourth in the competition but went straight to number one with her debut single "Swagger Jagger" and has been highly successful in the US.

Getty Images

3/12 Jedward, series 6 (Winner: Joe McElderry)

Louis Walsh loved them, but Dublin brothers John and Edward Grimes were seen as a joke act and came sixth. But they were soon the ones laughing - their music and television career was last year estimated to have earned them €6m.

Getty Images

4/12 Ella Henderson, series 9 (Winner: James Arthur)

A strong favourite to win, the teenager only came sixth in the singing competition. However, her debut single "Ghost" went straight to number one in the UK and remained in the top five for eight consecutive weeks.

Getty Images

5/12 Olly Murs, series 6 (Winner: Joe McElderry)

The loveable runner-up has released four number one singles and went double platinum with his second, self-titled album.

Getty Images

6/12 JLS, series 5 (Winner: Alexandra Burke)

Despite finishing in second place, "Jack the Lad Swing" went to number one with their first two singles, "Beat Again" and "Everybody in Love". They have sold over 10 million records worldwide but split in 2013.

Getty Images

7/12 Amelia Lily, series 8 (Winner: Little Mix)

The teenager reached number two with her debut single "You Bring Me Joy" after coming third on the show. She is set to release a second album this year.

Getty Images

8/12 Rylan Clark, series 9 (Winner: James Arthur)

Despite finishing up fifth, Rylan has become a big TV star. In 2013 he won Celebrity Big brother and now co-hosts Big Brother's Bit on the Side. He has also had several presenting roles on ITV's Daybreak and This Morning.

Getty Images

9/12 Rebecca Ferguson, series 7 (Winner: Matt Cardle)

The runner-up released her debut album Heaven to commercial and critical success and it went double platinum in the UK. In 2012 she was nominated for two MOBO Awards.

Getty Images

10/12 G4, series 1 (Winner: Steve Brookstein)

The singing quartet, described by Simon Cowell as the "real winners" of the first series, went on to sign a £1.5 million album deal with Sony BMG. They spilt in 2007 but will be playing a one-off reunion concert at the Barbican later this year.

Getty Images

11/12 Stacey Solomon, series 6 (Winner: Joe McElderry)

She has yet to release an official album, but has since carved out a highly successful career as a presenter and reality TV star. In 2010 she was crowned Queen of the Jungle on ITV's I'm a Celebrity... Get Me Out Of Here!

Getty Images

12/12 Union J, serie 9 (Winner: James Arthur)

They're not quite One Direction, but the boy band have done well considering they finished in fourth place. They made an appearance in 2013 movie Kick Ass 2 and their second album is due out later this year.

Getty Images
But on to the shining young stars, it's all about them really, isn't it?
The X Factor border control interrogation was left out this week when Charlie Martinez, a rather dashing young Floridian from the US Air Force auditioned. The judges were salivating over him like a pack of ravenous wolves eyeing up a rare, juicy steak.
Even fellow constants were getting in on the causal sexism as they watched from outside. They were drooling at Charlie and his Taylor Lautner-esque looks while cooing over his muscly arms. He was reduced to a face – forget about the voice.  
It was disgusting and unnerving, made all the worse when Mel B volunteered to hug him in an act of "moral support" as he cried after getting four yeses. She practically vaulted over the judges' desk to embrace him a little too tightly, while he shed tears of joy and shock at the prospect of inching a little closer to his dreams.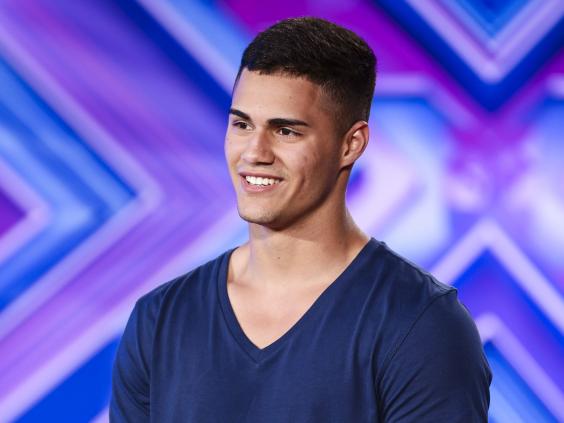 Oh, the superficiality of it all. Have we descended into a nation of facile creatures eating out of Simon Cowell's hand? Yes. Actually, it's more serious than that: it's a global X Factor epidemic and we've all succumbed to it.
He wasn't the only one though, there were several teenagers who could all be One Direction and Union J clones. The focus was on the boys but let's not forget that The X Factor is an equal opportunities show when it comes to objectification. Maria, the Scouse Nicole Scherzinger caught the judges' eyes with her pop star looks.
Viewers probably lost count of the number of times the judges described contestants as "gorgeous". Wretch.
Against all better judgement, there was only one seemingly genuine moment. It was Monica Michael, the young woman who helped underprivileged kids make music. It tugged at the heart strings and had viewers rooting for her. It was touching and made for great television despite being The X Factor.
Reuse content