"We are an island nation..." boomed the Churchillian voiceover, thus announcing, in case the title hadn't already given it away, that The Great British Year is yet another TV programme about how great Britain is. TV schedules are currently awash with patriotically themed shows such as the BBC panel show I Love My Country, but unlike some of its ilk, this wide-ranging nature documentary had something truly worth boasting about: our magnificent weather.
No, I'm not joking. It's Britain's temperate climate, with all that lovely drizzle, which was ultimately responsible for some of the most spectacular scenes in this, the winter episode of a four-part series. There were grey seals taking to the Cornish beach for their annual February malt, wild woodland deer on a nocturnal excursion into suburban gardens and a 700-year-old Dorset oak that "survived its first frost in the days when medieval knights roamed the land". Who needs helicopter shots of the Okavango Delta, when all this is right on our doorstep?
Any old nature programme can capture the drama of the natural world as prey eludes predator or mate attracts mate, but what this one did so elegantly was demonstrate the symbiosis of the entire British ecosystem. More photographers than have ever been used on a British wildlife series were dispatched across the country to employ an exciting variety of techniques.
Time-lapse photography showed the onset of frost and the subsequent thaw, microscopic close-ups demonstrated how wood lice feast on green algae. Most impressive of all was the thermal camera so sensitive it could pick out individual blades of grass in the pitch-black night. They used this to capture a dramatic interaction between a fox, a badger, a hare and her leveret (that's a baby hare, for the benefit of you city folk). It was no wonder then that the voiceover by Joseph Fiennes seemed occasionally to stray into poetic fancy. These sights were enough to make mini-Wordsworths of us all.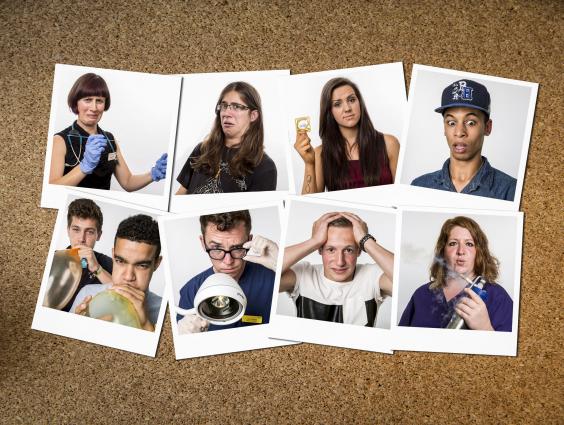 The animalistic mating rituals on Unsafe Sex in the City weren't quite so picturesque. BBC3's typically youth-oriented sexual health doc gave us an interior view of some dismal-looking student night spots en route to the STI clinic.
We also met Jack, who was worried he might have contracted HIV after hearing some bad news from an ex-partner; Chantelle, a 24-year-old circus worker, who gave an uncomfortably detailed account of her recent sexcapades, and Exeter's local lothario, Kev. Did Kev use a condom during his last sexual encounter? Did he heck. "I did take one with me," he informed the clinic nurse. Well, at least he's trying. However, it's the job of Unsafe Sex in the City to remind Kev and any others like him that, alas, good intentions are not a reliable defence against infection.
According to this programme, one in 100 people in Leeds are HIV positive, chlamydia is on the rise in Exeter and the clap is going round the student population like a standing ovation in the Royal Albert Hall. Most of the young people interviewed, hopeless romantics that they are, attributed all this unprotected sex to boredom. "There's not really much else to do. Get drunk and sleep with people, that's it," said Torbay resident Charmaine.
Under-25s were the focus of this programme, but since the rate of STI infection is growing fastest among the over-sixties, there's plenty of scope for a spin-off. If docs like this are the modern equivalent of public health announcements there should be a Radio 2 broadcast version of Unsafe Sex in the City coming soon. In the meantime, the two most important messages of last night are applicable to all ages: (1) Always use a condom; (2) Never allow yourself to be filmed by a BBC3 crew in the waiting area of a sexual health clinic.
Reuse content