Maiden speeches don't have to be a big deal – look at the SNP's Mhairi Black.
In the season four premiere of Veep however, Selina Meyer's first – and possibly last - joint session address to Congress is everything, reducing international incident briefings to bullet points delivered by the glorified work experience dogsbody.
"Yeah, because I'm the President. Everything's my fault now," POTUS (Julia Louis-Dreyfuss) sasses to herself, resisting the urge to throw in a self high-five, after being informed a US warship has smashed into a Greek fishing boat.
Vanity aside, Selina's political expediency does at least bend more to her good intentions rather than self-preservation, even if her entourage remain grounded in the grubby realities of the ongoing battle for the White House – and how her Families First bill could sink her chances of being the Prez, proper.
26 Netflix shows you need to watch
26 Netflix shows you need to watch
1/6 Breaking Bad / Talking Bad

If 37 of your friends haven't convinced you to watch this masterpiece by now, I'm not going to be able to. If not the best TV series of all time then certainly the most entertaining, Breaking Bad tells the story of a cancer-stricken chemistry teacher who throws his hand in and decides to cook crystal meth instead. If you're a devout fan and missing the series, its sister discussion show Talking Bad is also on Netflix and may be worth checking out, if just to reminisce on the weekly theorising that gripped us.

Frank Ockenfels/AMC

2/6 Orange is the New Black

Taylor Schilling plays a middle class woman who is forced to trade her comfortable New York apartment and Mad Men boxsets for a tough, tyrannically-run women's prison, but it's the supporting cast you'll stick around for. As well as being very funny, OITNB packs an emotional punch as you learn how the rest of the Litchfield inmates came to be incarcerated, challenging your preconceptions of them. Season 1 is up now, and season 2 is right around the corner (arrives 6 June).

Netflix

3/6 Trailer Park Boys

A seven season micro-budget mockumentary might sound like hard work, but actually you'll find yourself chomping your way through this hidden gem in no time. It centres on the recidivists and down and outs of a Canadian trailer park, whose daily struggles include scraping enough money together to buy smokes, repelling cats who piss on their weed plants and trying not to pass out drunk in the street. You'll instantly feel bonded to protagonists Julian and Ricky, while their neighbour Bubbles is comedy gold. Each episode is only 20 minutes, get binging.

4/6 Louie (US only)

Start by watching Louis C.K's stand-up Live at the Beacon Theater (also on Netflix) then plough on into this series. It sees the comedian play a semi-autobiographical version of himself gigging, raising his two kids and trying to cope with the world of dating far later in life than he expected to. It doesn't pack a high laughs-per-minute ratio, but that's not really what he's going for in this series. It's more Woody Allen territory really (indeed he went on to star in Blue Jasmine last year), and has a surprising emotional depth. Season 2 is shaky, but worth sticking through for season 3 which is brilliant and incredibly thoughtful.

FX

5/6 House of Cards

For too long US political dramas were all flags slowly unfurling in the wind to bugle calls and overblown final-hour speeches, but this Netflix original takes a much dimmer view of Washington. Kevin Spacey plays conniving congressman Frank Underwood, who will walk over anyone's dead body (maybe literally?) to get into power. Season 2 is even better than the first and watching it is like sitting down to eat a 16oz steak, so dense is the political plotting.

Netflix

6/6 Arrested Development

Living in a pre-fab show house with his shallow, avaricious family, Michael Bluth (Jason Bateman) is surrounded by fakery. When patriarch George goes to prison Michael must take charge of the family business, which turns out to be something of a poisoned chalice. Very funny and very innovative, though the latest season, a half-Netflix original, may be too meta and ambitious for its own good.

AP
Faced with helping poor working mothers or making cuts to spending elsewhere, pollster Kent Davison (Gary Cole) reasons: "But they only ever vote with their phones. Usually for other poor young moms who can't sing."
"You can absolutely do two contradictory things at once. For example, I love my mother. But I had to put her in a home and it's actually better for her if I don't visit," Selina attempts to convince herself as dipping into the military's budget is broached.
Remarkably, the Joint Chiefs of Staff offer up fifty billion dollars of funding for an outdated Cold War submarine program as solution to avoid having their c**** cut off to spite their thumbs – an impressive sum Selina intends to wow Congress with.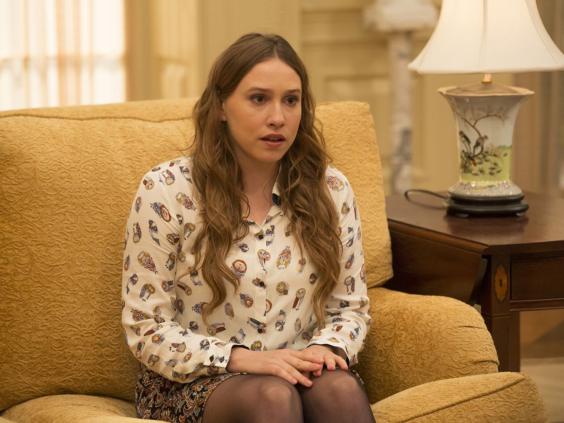 But by the time Congressman Roger Furlong (Dan Bakkedahl) has threatened her staff over the implications of junking the subs scheme will have on local economies that produce parts, Selina has already pressed the flesh and is in position to spout forth from her teleprompter. To make it worse, faithful bag man Gary Walsh (Tony Hale) has her glasses.
Even with her people flapping to make a swathe of real-time changes and Selina managing to convert stalling and blagging into believable rhetoric - or "Bebop speaking" according to Dan Egan (Reid Scott), to which Kent replies: "I detest jazz. But this is impressive" – the farce seems a little dialled down, but remains wickedly funny. Of course, the revisions are cocked up and an increase of an additional ten billion is given the thumbs up.
"This speech was supposed to perfectly define my Presidency. Whole cities of children were going to be saved from poverty. Instead now that money is going to fund obsolete, metal, giant dildos," Selina seethes, in another stupendous performance from Louis-Dreyfuss.
Without doubt one of the most consistently excellent comedies on TV, 'West Wing wiretap' Jonah Ryan's (Timothy Simons) laugh-free sexual harassment by the new Veep's enforcer Teddy Sykes (Patton Oswalt) strikes an odd note. But with such brilliant writing, direction and performances, who could vote against Veep?
Veep airs on Sky Atlantic, Wednedays, at 10.10pm
Reuse content