If last week was the start of this delicate and dangerous game of chess, the players merely assembled and ready, then tonight they begin to make their first moves. Just one step wrong and that could be the end - much like Cardinal Wolsey (Jonathan Pryce) who ends up dead leaving Thomas Cromwell (Mark Rylance) to find a new master in Henry VIII (Damien Lewis).
Game of Thrones fans tuning in to watch Wolf Hall might notice similarities between the politicking in King's Landing and Henry VIII's court – and they wouldn't be wrong.
George RR Martin was partly inspired by the reign of the English monarch while writing his A Song of Ice and Fire novels, and it's not hard to see why: this is no boring history lesson, it's compelling stuff. You really do win or you die at Henry's court.
The power play keeps us hooked: Cromwell's "interpretation" of Henry's dream illustrates perfectly how the lawyer is manipulating the situation to help secure the King's divorce from his first wife Katherine of Aragon (Joanne Whalley) to clear the way for Anne Boleyn (Claire Foy).
Wolf Hall cast in pictures
Wolf Hall cast in pictures
1/15 Wolf Hall

Mark Rylance as Thomas Cromwell in Wolf Hall

BBC

2/15 Wolf Hall

Damian Lewis as Henry VIII in Wolf Hall

BBC

3/15 Wolf Hall

Claire Foy as Anne Boleyn in Wolf Hall

BBC

4/15 Wolf Hall

Anton Lesser as Thomas More in Wolf Hall

BBC

5/15 Wolf Hall

Jonathan Pryce as Cardinal Wolsey in Wolf Hall

BBC

6/15 Wolf Hall

Mark Gatiss as Stephen Gardiner in Wolf Hall

BBC

7/15 Wolf Hall

Kate Phillips as Jane Seymour in Wolf Hall

BBC

8/15 Wolf Hall

Thomas Brodie Sangster as Rafe Sadler in Wolf Hall

BBC

9/15 Wolf Hall

Tom Holland as Gregory Cromwell in Wolf Hall

BBC

10/15 Wolf Hall

Max Fowler as Mark Smeaton in Wolf Hall

BBC

11/15 Wolf Hall

Jessica Raine as Jane Rochford in Wolf Hall

BBC

12/15 Wolf Hall

Bernard Hill as Duke of Norfolk in Wolf Hall

BBC

13/15 Wolf Hall

Natasha Little as Liz Cromwell in Wolf Hall

BBC

14/15 Wolf Hall

Joss Porter as Richard Cromwell in Wolf Hall

BBC

15/15 Wolf Hall

Richard Dillane as the Duke of Suffolk in Wolf Hall

BBC
The scene illustrates a more Machiavellian side to Cromwell, who has thus far remained a sympathetic character. But he is still very much our hero. Hilary Mantel's portrait of him is generally positive compared to other fictional portrayals such as A Man for All Seasons.
Rylance continues to mesmerize as the man of questionable birth rising to become the king's right-hand man. His calm, collected and measured performance really has the audience rooting for him. We want him to get that divorce, even if it means resorting to questionable methods.
There's also the scheming queen-to-be in the form of Foy's Anne Boleyn. It's hard not to admire her cunning and calculation. Like Cersei Lannister she knows how to get what she wants and has the king at the mercy of her charms.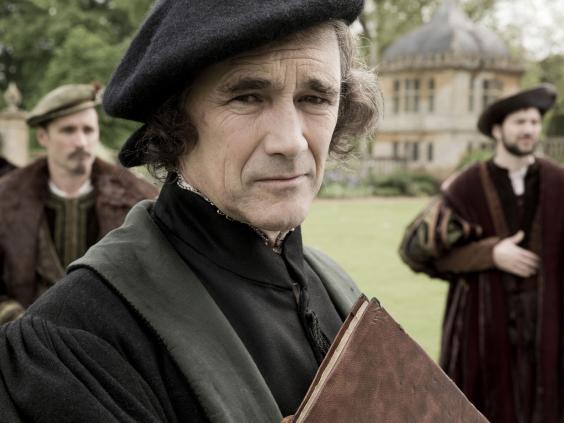 While her pronunciation of "Cromwell" last week was annoying and distracting, tonight is a vast improvement as she shows her guile. She is a slippery character to say the least.  
If you're a Game of Thrones fan who hasn't watched Wolf Hall yet, you are in for treat. Admittedly, there aren't any dragons or White Walkers but there's plenty of political intrigue and danger to contend with – people can still end up getting their head chopped off, after all. 
Reuse content